Night of the Dribbler
(1990)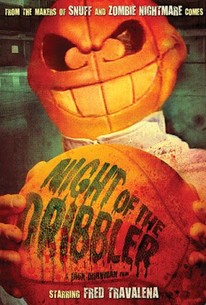 AUDIENCE SCORE
Critic Consensus: No consensus yet.
Movie Info
Night of the Dribbler is a long-lost Canadian horror-comedy that was made in 1990 but not released until 2009. Directed by Jack Bravman (who produced the notorious 1976 cult film Snuff), the slasher spoof follows a high-school basketball team being offed by a psycho killer wearing a jack-o''-lantern-like basketball on his head. Gregory Calpakis (Cold Squad) stars as suspect number-one: a hapless waterboy prevented from playing on the team by Coach Cherry (comedian Fred Travalena). ~ Sandra Bencic, Rovi
Rating:
NR
Genre:
Directed By:
On DVD:
Runtime:
Critic Reviews for Night of the Dribbler
There are no critic reviews yet for Night of the Dribbler. Keep checking Rotten Tomatoes for updates!
Audience Reviews for Night of the Dribbler
Night of the Dribbler is the super rare and long lost Canadian horror comedy (or comedy horror I should say) about a dimwitted college basketball team that sucks so bad, they haven't won a game in the last several seasons. To make matters worse, a masked lunatic (wearing a smiley-face basketball mask) starts killing or harming each and every new team captain that gets appointed. Meanwhile, the team's lowly equipment manager aspires to gain confidence and be able to play for the team in order to make his former superstar father happy, and two dimwitted detectives, Danny Gibson and Mel Glover, are hot on the killer's trail...actually, no they're not. The horror aspect of this film is actually downplayed a lot in favor of more corny 80's comedy (even though the movie came out in 1990) throughout the majority of it. There's about 100 jokes/slapstick gags every minute that runs the gauntlet of either coming off as genuinely funny, corny as hell, and downright awful. Compared to director Jack Bravman's equally silly Zombie Nightmare, Night of the Dribbler is a slight improvement. The highlight of the film is TV funnyman and popular voice impersonator Fred Travalena (another name in the long list of 2009 celebrity deaths), who plays 3 substantial characters: the game announcer (the best of the bunch), the team coach (also funny), and Detective Danny Gibson. All in all, Night of the Dribbler was a decent movie for me. It was over-the-top corny, but fun in a weird way. I would have never of known this film existed had it not been given a lovely transfer to the DVD age thanks to oddball DVD company Code Red. They were smart in only printing 1500 copies though, as I don't see much of a demand for this highly obscure movie. Not bad though.
Jason Duron
Discussion Forum
Discuss Night of the Dribbler on our Movie forum!