Night Across the Street
(2013)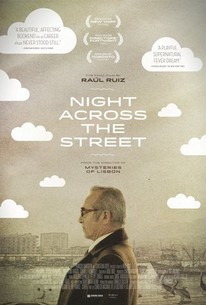 Night Across the Street Videos
Night Across the Street Photos
Movie Info
On the verge of a forced retirement, Don Celso, an elderly office worker begins to relive both real and imagined memories from his life - a trip to the movies as a young boy with Beethoven, listening to tall tales from Long John Silver, a brief stay in a haunted hotel. Stories hide within stories and the thin line between imagination and reality steadily erodes, opening up a marvelous new world of personal remembrance and fantastic melodrama. In this playfully elegiac film, loosely adapted from the fantastical short stories of Chilean writer Hernán del Solar, Raul Ruiz (MYSTERIES OF LISBON) has crafted a final masterwork on his favorite subjects: fiction, history and life itself. (c) Cinema Guild
Rating:
NR
Genre:
Directed By:
Written By:
In Theaters:
On DVD:
Runtime:
Studio:
News & Interviews for Night Across the Street
Critic Reviews for Night Across the Street
Audience Reviews for Night Across the Street
½
In "Night Across the Street," Celso(Sergio Hernandez) may like to play marbles but that does not mean at his advanced age, that he is losing his. So, he attends classes where he befriends Giono(Christian Vadim), a famed writer from abroad, who he tells the story of his childhood where he idolized Beethoven(Sergio Schmied) to such a point that he got in trouble for it. Celso also talks about the man who is coming to kill him in the present. As a semi-autobiographical film, "Night Across the Street" confirms what many of us what have already suspected, namely that Raul Ruiz was one strange kid, who would one day grow up to make the kind of unique movies he eventually would.(One could also make the case that any kid that precocious would have a hard time realistically surviving puberty but whatever.) And with his last film, he announces in style of his intention on going out on his terms to create one of his more memorably weird films.
An old man recalls his childhood, when he used to carry on conversations with Long John Silver and Ludwig van Beethoven, as he waits in his boarding home for the man who will kill him to arrive. This defiantly absurd meditation on death gains contextual poignancy due to the fact that writer/director Raul Ruiz was gravely ill while making it and died before it could be released.
½
The late Raúl Ruiz's final film is a perfect way to draw a cinematic life to a close. It's a beautiful meditation on approaching the end of one's life, with memories, dreams and phantasms of the mind exquisitely interwoven. We often can't really tell which is which amidst the film's quirky and surreal humor, which is also sustained throughout. The film is characterized by languid camera movement with meticulous scene choreography and composition; unanticipated revelations lie just around corners and outside the frame, and seeing them appear is consistently disarming. There's a real sense of magic in the film's direction. And - *spoiler alert, I guess* - Ruiz doesn't settle for a traditionally beautifully wrapped-up conclusion; the movie goes beyond what feels like a perfect endpoint (and the film would still hold its power were it to end there) and moves into one more perplexing sequence, ultimately cutting to black mid-dialogue. Sounds from behind the scenes on the set are heard over the end credits, and as the final credit rolls, the movie ends with the sound of Ruiz calling, 'Cut!' What a way to go. (Ironically, this is the first Ruiz film I have seen; I'm already convinced of his mastery of the art of cinema, and I'm eager to explore the rest of his filmography.)
Harry E
Night Across the Street Quotes
There are no approved quotes yet for this movie.
Discussion Forum
Discuss Night Across the Street on our Movie forum!