A Night at the Roxbury
(1998)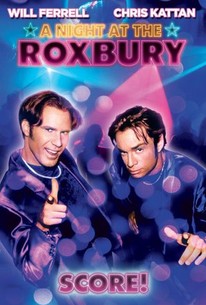 TOMATOMETER
AUDIENCE SCORE
Critic Consensus: Has the same problems as the worst SNL movies: one-note characters and plots unreasonably stretched to feature length runtime.
A Night at the Roxbury Photos
Movie Info
This comedy extends and embellishes characters introduced on Saturday Night Live by regulars Will Ferrell and Chris Kattan in their sketch series of two head-bobbing losers who go on the town, looking for action, when they hear the What Is Love? disco tune. Looking cool, brothers Steve (Ferrell) and Doug Butabi (Kattan) always fail to pick up women in their hapless nightclub jaunts. In Beverly Hills, they work at a fake-flower store run by their father (Dan Hedaya). They are always denied entrance to the Roxbury, a leading discotheque, but an auto accident with Richard Grieco (portraying himself) gives them a foot in the door. Inside, they meet the club's owner (an uncredited Chazz Palminteri), and two gold-diggers (Elisa Donovan, Gigi Rice) believe they are wealthy businessmen. Steve finds his father shoving him into marriage with next-door neighbor Emily (Molly Shannon), but Doug keeps this from happening. Fortune smiles, and the Butabi brothers become the co-owners of a new nightclub. The real-life Roxbury on the Sunset Strip (once the location of the Imperial Gardens and the Players Club) was converted into a Japanese restaurant by the time this film was released. ~ Bhob Stewart, Rovi
News & Interviews for A Night at the Roxbury
Critic Reviews for A Night at the Roxbury
Audience Reviews for A Night at the Roxbury
If you find this kind of humor funny (which I do for a short time of 82 minutes), then this one-joke, nearly plotless movie should be amusing enough for you, but if you can't stand SNL (or the show's sketch for that matter), then it will probably be a pain to sit through. Be warned.
Carlos Magalhães
Super Reviewer
Doug Butabi: You can take away our phones and you can take away our keys, but you can NOT take away our dreams.  "Score!" A Night at the Roxbury is a rather annoying and highly forgettable comedy. That being said, over the years I have accrued more appreciation for the film. I'm not saying that I like it, but I can find a lot more humor in it than I once could. I like the whole idea of it, what with the clubbing, loser brothers, but the execution is just off, as it is often with ridiculous comedies like this.  Two brothers Doug and Steve still live with their parents. Their father owns a floral shop and wants them to work hard for the family business. Instead, the two spend their time hitting on every woman they see and going clubbing at night. Sounds like fun, but the problem is that they fail at both. They can't get in the clubs and when they do, they are lousy with the women. They lust after one night in the hottest club in town, The Roxbury. Will Farrell and Chris Kattan definitely have good chemistry. The problem is with how their characters are played. Farrell is basically just taken like a slow teenager the whole time, while Kattan looks out the corner of his eyes and scoffs at things. If you can buy into their ridiculous performances, there is fun to be had; it's just not any easy thing to do. I like the supporting cast though.  While A Night at the Roxbury isn't what I'd call a great movie, it has got a place in the world of movies. It's one of those movies that, if you can stand, you watch late at night every once in awhile when you don't want to think about anything. A short runtime and quick paced storyline keeps things moving and makes the movie much more watchable. It will never be considered anything more than a dumb, bad comedy, but still you may want to give it a chance on the off case, you actually could like the humor involved.
Melvin White
Super Reviewer
A Night at the Roxbury Quotes
There are no approved quotes yet for this movie.
Discussion Forum
Discuss A Night at the Roxbury on our Movie forum!