Night Crossing
(1982)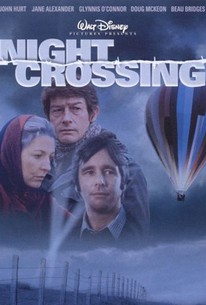 AUDIENCE SCORE
Critic Consensus: No consensus yet.
Movie Info
Two friends chart a daring path to freedom in this drama from Walt Disney Pictures. Peter Strelzyk (John Hurt) and Guenter Wetzel (Beau Bridges) are two men living in East Germany who can no longer tolerate the petty tyrannies of Communist rule. Together, they formulate a daring plan to escape to democratic West Germany in a hot air balloon, but Peter and Guenter realize that they have to build a very special lighter-than-air craft to carry both themselves and their families to safety. Night Crossing also features Jane Alexander, Doug McKeon, and Keith McKeon as members of the Strelzyk Family, and Glynnis O'Connor, Michael Liesik, and Geoffrey Liesik as the Wetzels.
Critic Reviews for Night Crossing
All Critics (3) | Fresh (3) | Rotten (0)
Night Crossing proves that a family united in a common project can accomplish near impossible things.

Spirituality and Practice
Audience Reviews for Night Crossing
Saw it years ago, but do recall I saw it at night while crossing my legs so as to feel an integral part of the whole experience and I do believe it worked as they seemed to make it out and I apparently made it home, so all was well with the world that eve.
Melanie D'Angelo
Since it's a Disney production, "Night Crossing" is a pretty wholesome picture that conveniently glosses over some of the darker elements of the era in which the film is set. That doesn't by any means make this a bad movie, in fact quite the opposite is true. This is a thrilling and captivating movie that exemplifies the human spirit and what it means to be free. There's a fine cast, and young Beau Bridges is exceptionally good along with the typically reliable John Hurt. Director Delbert Mann is a good storyteller, but he keeps the film paced well and the tension tight. The story is true, but it's not a historically significant one. Mann's capable direction, however, makes the finale a real nail-biter in the grand Disney tradition. Thanks to a strong script, you really come to care for these characters and it really doesn't bother you so much that the screenwriters sanitize history. In fact, in some ways that's a good thing simply because it makes this perfect family entertainment. I can honestly say that it can easily be enjoyed by parents and their children, and it's good enough to generate a lot of discussion afterwards. Inquisitive kids will instinctively want to learn more about this subject, and an educational and entertaining film can't be a bad thing at all. "Night Crossing" was the first "grown-up" movie I can remember seeing as a kid, and it still holds up just fine for today's audiences. It's a thrilling, well-told story that builds tension nicely.
Timothy Sanders
½
In 1979, a couple of families fled to West Germany in a hot-air balloon in order to live in a more free and peaceful area.
Michael Ward
Night Crossing Quotes
There are no approved quotes yet for this movie.
Discussion Forum
Discuss Night Crossing on our Movie forum!