Night Game
(1989)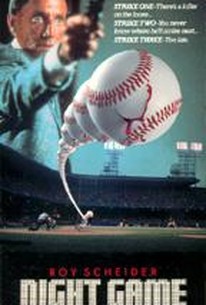 AUDIENCE SCORE
Critic Consensus: No consensus yet.
Movie Info
In this gory crime drama, a cop stalks a serial killer who in turn stalks unsuspecting women on the nights when the Houston Astros play.
Rating:
R (adult situations/language, violence)
Genre:
,
Directed By:
Written By:
In Theaters:
On DVD:
Runtime:
Studio:
HBO Video
Audience Reviews for Night Game
½
From one Roy Scheider movie to another. I remember the week NIGHT GAME was in theaters. I'd really wanted to see it, as I was really into horror films at the time and liked baseball, so the poster art, featuring a metal hook slicing through a bleeding baseball, just seemed like the MOST AWESOME THING EVER. I look at it now and it's still cool. Blood and baseball! What could be better? Well, as I learned from [url="http://www.rottentomatoes.com/vine/journal_view.php?journalid=13186&entryid=77588&view=public"]BLOOD GAMES[/url], plenty. NIGHT GAME features Scheider as worn-out Texas detective Mike Seaver who gets growing pains when he goes from the big city (Houston) to the smaller city (Galveston). A serial killer is running around, killing blonde women on the beach. Can you guess what color hair Seaver's fiancee (Karen Young) has? Very good. You get a "Snickers." The serial killer strikes every time the Houston Astros win a night game, hence the title. I'm not spoiling this plot twist for you--it's right there on the video box, and the movie is called NIGHT GAME, for Chrissakes. So the film spends a good half-hour simply getting its' characters' knowledge to the point where the audience's is before the opening c...[color=transparent][color=transparent]redits.[/color][/color] Feh. There's a fair share of sub-plots, including Seaver's wedding being postponed because he attacked his future mother-in-law (!) and a squabble with a county sheriff (Paul Gleason) that ends without any real impact. Meanwhile, Scheider does his bitter cop thing competently enough, but you can kind of see the quick paycheck in his eyes. In fact, the whole movie has no real impact. The killer isn't anyone that we've seen at any point in the movie, and when he finally does appear, even with a hook for a hand, he's about as memorable as the killer on the average COLUMBO episode. Of course, the climax involves the fiancee getting chased around by him, a situation that could have been avoided had (a) she not decided to desert a heavily-populated area to wander around an empty pier when she noticed she was being followed or (b) Seaver had had the intelligence to warn his lady love not to, you know, hang around the beach where girls that look like her keep getting killed after he figured out the pattern. It's predictable, lamely directed stuff without a moment of real tension, and the connection between murder and baseball never really connect. (Nobody, for example, gets murdered anywhere near anything to do with baseball.) There's a silly little in-joke where the characters pass a movie theater showing KANSAS (by the same writer) and FULL MOON IN BLUE WATER (by the same director) that's briefly cute, and Lane Smith plays a government agent in a barely-there bit role (he's third billed, so it's possible he was mostly cut out) so it's not a total waste, but still, nothing here to recommend. Damn, that's [url="http://www.imdb.com/title/tt0097971/posters"]great poster art[/url], though. (Get it? Mike Seaver? "Growing Pains?" Bah. My wit is wasted on you.)
Paul Freitag
Night Game Quotes
There are no approved quotes yet for this movie.