Night of Dark Shadows
(1971)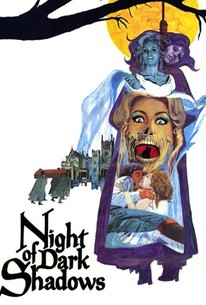 AUDIENCE SCORE
Critic Consensus: No consensus yet.
Night of Dark Shadows Videos
Night of Dark Shadows Photos
Movie Info
This is the second full-length motion picture feature based on the popular television soap-opera/horror melodrama Dark Shadows. The first film was House of Dark Shadows. This film lacks the grand guignol glee provided by Jonathan Frid and Joan Bennet. However, it has a new storyline, not a rehash of one previously explored in the television series. Here, artist Charles Collins (David Selby, who performed the same part in the TV series) brings his new bride to live in the family mansion, which he has just inherited. The gentle and sensitive young Collins, the last of his clan, has troubled sleep. He dreams of the past, of his family, and of the house. Perhaps his dreams are not just dreams? Increasingly deranged by these visions, it begins to look like he will re-enact the atrocities committed by his family in the past. It is interesting to note that the film uses the mansion of 1890s railroad robber/baron Jay Gould for its setting.
Rating:
PG
Genre:
, , ,
Directed By:
Written By:
In Theaters:
On DVD:
Runtime:
Studio:
Warner Home Video
Critic Reviews for Night of Dark Shadows
All Critics (1) | Fresh (0) | Rotten (1)
A modest exploitation supernatural tale, that seems better suited to be soap opera day TV fare than a feature movie.

Ozus' World Movie Reviews
Audience Reviews for Night of Dark Shadows
I went into this one thinking I'd caught it before, perhaps on a TCM late night viewing, but I was surprised to find it all very new to me. I enjoyed the film overall, but it didn't really feel like what I was expecting from the series, if I'm being completely honest. I think I was expecting more vampires and got ghosts and witches instead, which just didn't scratch the same itch. Rental?
Bill Bryant
I give this a three because i have seen the deleted scenes, and if they could only be incorporated into one glorious Director's Cut of some sort this film would be regarded a lot higher than it is. Even uncut the fim isn't as good as the House of Dark Shadows but it does take us on a more spectacular journey. And i must say that Lara Parker is looking S-E-X-Y throughout the entire film. If i were Prince i would write an entire EP about her and what i think of her. I would call it "Sensual/Wicked/Nectar"
Wesley Jacobson
"House of Dark Shadows" is an abridged version of the Barnabas Collins storyline of the popular television show. However, creator / director Dan Curtis was forced to explore different plot avenues with "Night of Dark Shadows." "Night of Dark Shadows" focuses on the arrival of artist Quentin Collins (David Selby) and his wife, Tracy (Kate Jackson), to his newly inherited home, Collinwood. He's greeted by the mysterious housekeeper, Carlotta Drake (Grayson Hall), and the caretaker, Gerard Stiles (Jim Storm). Quentin begins having visions of a past existence in which he's having an affair with his brother's wife, Angelique (Lara Parker). As he digs deeper into the family history, he discovers Angelique was hung on the property for accusations of being a witch. Are his trances truly memories of a former life? Can he keep the evil spirit of Angelique from destroying his family and friends and driving him insane? Where "House of Dark Shadows" is quickly paced, this indirect sequel plods along nicely and establishes a storyline and a sense of fear and creepiness. The problem is what it builds up to. The conclusion of the film is rather abrupt and unsatisfying. There's also a similarity to director Curtis's ending of his 1976 film "Burnt Offerings," which I find interesting in hindsight. It's obvious when viewing the movie that it suffered some final cuts in the editing room. Long-time enthusiasts of the show know the history behind the making of the film and the existence of lost footage. Director Curtis was given 24 hours to re-cut the movie from 129 minutes to 94 minutes by MGM. Fans of the film petitioned to have the chopped sequences restored and a director's cut released. The footage was found in 1999, but it was without sound. The scenes are said to give "Night of Dark Shadows" a darker mood and reinstate the original cohesion and framework of the film. The movie might have some problems, but it's still an entertaining watch. http://contributor.yahoo.com/user/849014/eric_shirey.html
Eric Shirey
Night of Dark Shadows Quotes
There are no approved quotes yet for this movie.