Night of the Demons
(1988)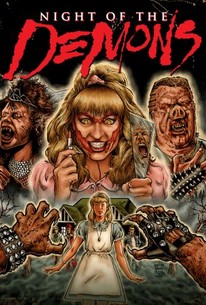 Night of the Demons Videos
Night of the Demons Photos
Movie Info
Maddie Curtis and her friends Lilly and Suzanne are ready for a great Halloween night. They're going to a party thrown by their friend Angela at the notorious Broussard Mansion in New Orleans. Over eighty years ago, six people disappeared from the mansion without a trace--and the owner, Evangeline Broussard, hung herself. The dark history only serves to enhance the Broussard Mansion's appeal on Halloween. At the decadent, out-of-control party, Maddie and Lily run into their exes, Colin and Dex, while Suzanne parties it up. Good times end, however, when the police bust up the party. After the rest of the guests leave, Angela, Maddie, Lily, Dex, Colin, Suzanne and their friend Jason discover a horrible secret. Their cell phones don't work. The mansion gates are now mysteriously locked. Soon it becomes clear that supernatural forces are at work at the Broussard Mansion, and that there may be more to the tale of Evangeline Broussard than anyone knew. It turns out that the Broussard Mansion is home to demons that need to possess seven vessels to break free of an ancient curse. One by one the guests fall victim, transforming into hideous creatures. Only Maddie, Colin and Jason remain--but can they make it through the night and keep evil forces from spreading into the world?
Critic Reviews for Night of the Demons
Audience Reviews for Night of the Demons
½
A block of 80's schlock with jump scares (which bombard the viewers with Dennis Michael Tenney's blaring synthesizer score) and séance-summoning atmosphere aplenty, Night of the Demons is a spooky, enjoyably kitschy B-movie ripe for rediscovery. The ghostly opening- credits animation of Hull House is an old-fashioned, matte-painting throwback to 'Fantasia's Night on Bald Mountain. The acting range within the film scuttles from wooden to unintentionally hammy (the choice of a Frank Welker mimic for the lip-synched demon is consequently riotous since visions of Megatron and Doctor Claw materialize). The soon-to-be-osmotically-possessed-via-kiss teenagers (who could be 30-year-olds) begin as sexist, repulsive hedonists guzzling Coors and coveting intercourse but a trio of them eventually evolves into amiable characters worthy of rescue. Sal Romero (William Gallo) is the Fonz of the picture who is the sex-starved Italian until he chivalrously sacrifices himself for Judy Cassidy (Cathy Podewell who monotones her lines like Farrah Fawcett with a frontal-lobe lobotomy), the virtuous heroine. In a novel contortion on conventions, Roger (Alvin Alexis), the token African-American isn't the first victim. The sensual highlight is Angela Franklin's (Amelia Kinkade) otherworldly, callisthenic dance choreography in a black veil with a strobe light in the background. Her lithe movements are simultaneously erotic and unsettling. The countdown to a body count is a long fuse but it compensates in dividends of bodice-ripper nudity (the coquettish, tutu-wearing Linnea Quigley usually disrobes on a whim) and flesh-tearing mutilation.
Cory Taylor
Super Reviewer
½
Well this certainly isn't quite in the same league as the new remake. Yes its a gloriously silly 80's flick but it really is basic in terms of sets, acting and casting, all very cheap and cheerful. The only reason to watch this, again, is simply for the pretty decent makeup and effects by Steve Johnson. Good old fashioned hands on halloween masks, prosthetics and blood. The new film is chock full of more seedy outfits and flashy visuals but the gore is about on par with this original. This older film isn't a big rave like the new film, its more low key with obviously smaller production values which gives it a better darker look. Lack of funds can often lead to better results in visuals methinks, you can't simply rely on CGI. Naturally this is a grittier affair and more of a sensible scare fest of course, but by today's standards its quite tame and humorous.
Phil Hubbs
Super Reviewer
Kevin S. Tenney's original film is a horrifying, fun and amusing piece of Halloween viewing. Film stars Horror veteran Linnea Quigley and Amelia Kinkade. Night of the Demons is a terrific blend of horrifying blood and gore. Tenney's excellent directing effects a fun mood of terror on screen, and the film succeeds in being horrifying, and amusing all at once. The kids spend the night in a haunted funeral home for Halloween, and they discover an old mirror. Soon each of them become Demons and the rest that aren't try to survive the night. Night of the Demons is a definite Halloween seasonal classic. Night of the Demons is a fun, thrilling carnival of horror extravaganza that will definitely appeal to every old school horror fan. Night of the Demons is a definite must see classic. Kevin Tenney's directing is superb, and he directs this stellar cast of actors in the amusing spook fest. The special effects are very well done and the film is meant not to be taken too seriously, which is a must for a film like this. Night of the Demons may be a flawed film, but it definitely delivers all the necessities that good horror film needs to deliver to appeal to its audience. As a diehard Horror fan, I personally think that this is one of the best Horror films of the 1980's. If you love all the classic 80's Horror films, and you haven't seen this film yet, then give this one a shot. Night of the Demons promises to be one terrific night of spooky enjoyable fun.
Night of the Demons Quotes
| | |
| --- | --- |
| Angela: | Judy, Rodger, where you going? The party's just begun |
| | |
| --- | --- |
| Suzanne: | stop lookin at me |
| Suzanne: | Stop lookin' at me. |
| | |
| --- | --- |
| Roger: | yeah eat a bowl of fuck ! im here to PARTYYYYY !!! |
| Roger: | Eat a bowl of fuck! I am here to PARTY! |
| Stooge: | Eat a bowl of fuck! I am here to PARTY! |
| | |
| --- | --- |
| Sal: | hi bill |
| Sal: | Hi Bill. |
Discussion Forum
Discuss Night of the Demons on our Movie forum!