Night of the Demons
(2010)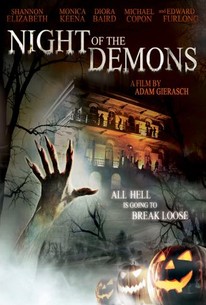 Night of the Demons Videos
Night of the Demons Photos
Movie Info
The ultimate Halloween party becomes the setting for a terrifying night of satanic slaughter when seven teenagers become trapped in a mansion filled with rampaging demons in this remake Kevin S. Tenney's influential 1988 horror classic. Everyone in New Orleans knows the dark story of Broussard Mansion, but none of the locals have dared set foot in the notorious estate...until now. Angela Feld has chosen Broussard Mansion as the setting for this year's annual Halloween bash. No one throws a party quite like Angela, and when her friends catch wind of the plan, curiosity takes precedence over fear. Later that night, the party is packed and the music is blasting when the police show up to spoil the fun and send everyone packing. The only ones left behind are Angela, Maddie, Lily, Suzanne, Colin, Dex, and Jason, and they're not ready to call it a night just yet. Upon venturing down into the basement, Colin and Angela make a grisly discovery that sets into motion a diabolical series of events. There is no escape from the fear that follows next, because as the doors of Broussard Mansion mysteriously lock, a horde of ancient demons rise from the darkness to unleash the infernal powers of Hell on the desperate teens, who will fight to the death to protect their immortal souls. Shannon Elizabeth, Monica Keena, Edward Furlong, and Tiffany Shepis star.
Rating:
R (Rated R for bloody horror violence/gore and language throughout, some sexuality, nudity and drug use.)
Genre:
Directed By:
Written By:
In Theaters:
On DVD:
Runtime:
Studio:
Critic Reviews for Night of the Demons
Audience Reviews for Night of the Demons
A total ridiculous load of nonsense packed with sexy girls in corsets, fishnets, gross bloody effects and plenty of lesbian demon makeout time mixed with human tits n ass...and it was totally cool. Yep its a throw away film with a common, unoriginal, predictable, cliched character ridden plot which you've seen over and over but like other films in this genre ('Plane of the Dead' 'Zombie Strippers') it actually has some great makeup and effects which raise the film above other throw away films. The makeup work is really nice and reminded me of Tom Savini's type of work, really spot on yet a little tacky looking at the same time, think 'From Dusk Till Dawn' and you're there. Unknown cast accept for Edward Furlong who looks rather bloated and permanently hung over but his name does lure the experienced cinema goer. It only needs one biggish name really doesn't it. Pointless film, great horror effects = guilty pleasure. A decent tacky 80's throw back with sexy girls in very little clothes. Need I say more?.
Phil Hubbs
Super Reviewer
½
As far as remakes go, I'm as skeptical as the next horror fan. Very often Horror remakes will be hit and miss, and most of the time they'll miss the mark by a long shot. But thankfully, this is not the case with The Night of the Demons remake. The remake is one terrific blood soaked gore fest. I don't understand why the remake got so many bad reviews. The film is actually a well crafted film using obviously the premise of the original, but doing something very amusing with the whole idea and reinvents the formula in a whole new way. The result is an awesome remake with plenty of blood, guts, nudity and horror. Helming the film is director Adam Gierasch, a diehard Horror fan. Gierasch's directing is superb and his love of horror films shows on screen. The remake Of Night of the Demons is one of the best since My Bloody Valentine 3D. The film is great Halloween viewing and like the original, is a definite must see for all horror fans. Obviously the strength of the film lies within the gore content, and the film has no shortage of blood and guts. The cast is average, and there's not really anyone enjoyable on screen, so when they become Demons, you really don't care about the characters. Even if there's not really anyone great on screen, Shannon Elizabeth and Edward Furlong are the best here, and Elizabeth is perfectly cast as Angela. However I feel the characters aren't that great. But in the end, for a film like this, it's the gore that counts. The Night of the Demons remake certainly delivers on blood and guts, and it's what makes this film so much fun in the end. Night of the Demons isn't a flawless remake, but it's still much better than most remakes out there, and considering that this is a direct to video remake, its pretty good and very entertaining. This is one of the best remakes that I've seen in quite some time, is almost as good as Kevin Tenney's original film. However, this film will never beat the original. This remake also features a cameo from Linnea Quigley who played in the first one. A terrific and horrifying film that's sure to please fans of the original.
Sure, okay. Whatever. Nothing new here. Some gore and flesh for those in need.
Night of the Demons Quotes
There are no approved quotes yet for this movie.