The Night of the Following Day
(1968)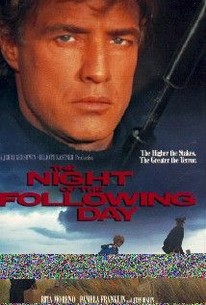 The Night of the Following Day Photos
Movie Info
In this lively and sometimes brutal crime drama, four crooks abduct a wealthy heiress and hold her hostage. While waiting for her father to respond, each of the crooks must deal with his personal problems. Matters get worse when the girl begins falling for one of them.
Critic Reviews for The Night of the Following Day
All Critics (5) | Top Critics (1) | Fresh (5) | Rotten (0)
It's a terrific role, a sympathetic baddie who has certain standards

An often fascinating film -- not good exactly, but never lacking in strange interest -- that features one of Brando's least 'methody' performances.

Mountain Xpress (Asheville, NC)
Marlon Brando gives a pleasingly subdued performance that is devoid of his usual Method acting mannerisms.

Ozus' World Movie Reviews
Audience Reviews for The Night of the Following Day
½
Neither great nor terrible this middling thriller has a good cast and some nice location shooting but never really engages the viewer.
Brando says he made this film "for the money", unlike his favorite films. A critical success,the 1968 crime thriller is about a kidnapping of a DuPont. [img]http://bobsegarini.files.wordpress.com/2011/11/geoff-richard-boone.jpg[/img] Richard Boone kidnapping a DuPont I liked the film primarily because of Brando and even more for Richard Boone. Boone brings this casual criminal guy act to the film which betrays how evil he really can be. [img]http://i500.listal.com/image/1561255/500full.jpg[/img] Brando as Bud, part of the gang, is the rational one SEE this trailer: http://www.youtube.com/watch?v=wE38qDiz5Z0 READ the review by Roger Ebert way back in 1969: http://www.rogerebert.com/reviews/the-night-of-the-following-day-1969 [img]http://i1.ytimg.com/vi/wE38qDiz5Z0/hqdefault.jpg[/img] Rita Merino, co-conspirator NOTES: 1 Brando wrote later in his autobiography that he made this film just for the money, unlike other films he cherished more, such as "Burn" and especially "Bedtime Story" with David Niven(the ONLY film he loved to wake up to do). 2 Brando's character is named Bud. In real life, it was his nickname in his family in Omaha and Illinois. 3 Brando thought a movie ought to have a message, especially a caring, thoughtful message about world problems. But he needed the money for his alimony at the time and made movies just for the cash. This movie he made for the cash. [img]http://image.tmdb.org/t/p/w300/d4drhvke2w4WNYS8pXdMQxP4WrU.jpg[/img] Though Brano says he acted in this one strictly for the money, you would never know it. Just great. To see the film in 8 parts, start here: http://www.youtube.com/playlist?list=PLWByp_TR2wpa76rUh44oZrU1eiMxT22Tf [img]http://upload.wikimedia.org/wikipedia/en/thumb/c/c9/Night_of_the_following_day_ver2.jpg/220px-Night_of_the_following_day_ver2.jpg[/img] Bud the chauffeur - Marlon Brando Leer - Richard Boone Vi the stewardess/accomplice - Rita Moreno Dupont's daughter - Pamela Franklin Wally, the dim sidekick - Jess Hahn Gendarme/fisherman - Gerard Buhr Cafe owner - Jacques Marin Dupont - Huques Wanner Pilot - Al Lettieri Directed by Hubert Cornfield Produced by Elliott Kastner Written by Hubert Cornfield Robert Phippeny Music by Stanley Myers Cinematography Willy Kurant Distributed by Universal Pictures Release dates 1968 Running time 93 min [img]https://encrypted-tbn3.gstatic.com/images?q=tbn:ANd9GcRavzgg6I5gxuwvuwRiTjaEApGm4TqGaxT3Pil-_zfuSMRiN8wk[/img]
monsieur rick
½
An often fascinating film -- not good exactly, but never lacking in strange interest -- that features one of Brando's least 'methody' performances.
Lee Mayo
The Night of the Following Day Quotes
There are no approved quotes yet for this movie.
Discussion Forum
Discuss The Night of the Following Day on our Movie forum!