Night Passage
(1957)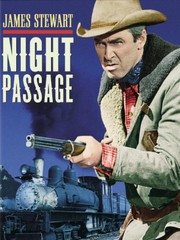 AUDIENCE SCORE
Critic Consensus: No consensus yet.
Movie Info
Night Passage is so similar in spirit to the successful collaborations between star James Stewart and director Anthony Mann that it comes as a surprise that this film is directed by James Nielson. Stewart plays Grant McLaine, ex-railroad employee and the level-headed brother of firebrand gunslinger The Utica Kid (Audie Murphy). When Grant is entrusted to guard a train delivering $10,000, The Kid's gang holds up the train and steals the money. Grant takes off to hunt his felonious brother down and attempts to convince him to go straight. Unfortunately, The Kid refuses, and the brothers face off in a showdown.
more
Cast
News & Interviews for Night Passage
Critic Reviews for Night Passage
All Critics (3) | Top Critics (1) | Fresh (1) | Rotten (1)

It's an enjoyable kind of simple, briskly directed with several thrilling action set pieces.


Ozus' World Movie Reviews
Audience Reviews for Night Passage
½
Aside from the sibling angle and great character acting, this is about as forgettable as any James Stewart western could be.
Paris Smith
Super Reviewer
½
While Jimmy Stewart may be the draw for this film, he is not always in it. The worst thing about this film for me is Audie Murphy, a real WWII, walking talking legend is an utter failure (to me) at acting. Night Passage is a 1957 Western film starring James Stewart and Audie Murphy.

Meanwhile, the cinematography is just stunning. The West looks so grand from atop a steam locomotive flatcar. Watch the film for the scenery alone. Just like being there. The film was the first to utilize the Technirama process by Technicolor. It's glorious to see the West filmed this way........

[img]http://t2.gstatic.com/images?q=tbn:ANd9GcR_qjF_Bw99mnv3Kky683FxmcNVRGvpbARFu--VA9gMgkuUf_lW[/img]

The film also offered Stewart the rare opportunity to play the accordion, an instrument he had played since childhood. See the young boy who played in Shane as well. Also, Hugh Beaumont, the dad in TV's Leave It To Beaver plays a sinister role and Jack Elam plays a minor role too.


[img]http://t1.gstatic.com/images?q=tbn:ANd9GcQml_muNydiH8snoe91BH8W4XdG2bZb7X1WY2ZU1oK1GYphtIiStA[/img]



REVIEWS from RT:

100%
Hearing James Stewart play the accordion and sing is probably not the most pleasant part of this film. Great actor, bad singer.

60%
NIGHT PASSAGE (1957)


NOTES:

1 The railroad scenes were filmed at the Durango & Silverton Narrow Gauge Railroad in Durango, Colorado, using Denver & Rio Grande Western Railroad K-28 Class steam locomotive #476 which still operates in excursion service today.

2 Though not as memorable as other Stewart-Mann films, Night Passage was a commercial success upon its release and has become a staple of cable television.


SEE the entire film here:

http://www.youtube.com/watch?v=yzxyNobslsM


SEE the trailer here:

http://www.youtube.com/watch?v=juENeWSSsog


[img]http://upload.wikimedia.org/wikipedia/commons/thumb/f/f6/Night_Passage_-_1957_-_Poster.png/220px-Night_Passage_-_1957_-_Poster.png[/img]


Cast

James Stewart as Grant McLaine
Audie Murphy as The Utica Kid
Dan Duryea as Whitey Harbin
Dianne Foster as Charlotte Drew
Elaine Stewart as Verna Kimball
Brandon deWilde as Joey Adams
Jay C. Flippen as Ben Kimball
Herbert Anderson as Will Renner
Robert J. Wilke as Concho
Hugh Beaumont as Jeff Kurth
Jack Elam as Shotgun
Tommy Cook as Howdy Sladen
Paul Fix as Clarence Feeney
Olive Carey as Miss Vittles
James Flavin as Tim Riley
Donald Curtis as Jubilee
Ellen Corby as Mrs. Feeney
John Daheim as Latigo
Kenny Williams as O'Brien
Frank Chase as Trinidad
Harold Goodwin as Pick Gannon
Harold Hart as Tommy Shannon
Jack C. Williams as Dusty
Boyd Stockman as Torgenson
Henry Wills as Pache
Chuck Roberson as Roan
Willard W. Willingham as Click
Polly Burson as Rosa
Patsy Novak as Linda
Ted Mapes as Leary




Directed by

James Neilson

Produced by
Aaron Rosenberg

Written by
Norman A. Fox
Borden Chase

Music by
Dimitri Tiomkin
Ned Washington

Cinematography
William H. Daniels

Editing by
Sherman Todd

Distributed by
Universal Pictures

Release date(s)
July 24, 1957

Running time
90 minutes
monsieur rick
Discussion Forum
Discuss Night Passage on our Movie forum!
News & Features