Night Train to Terror
(1985)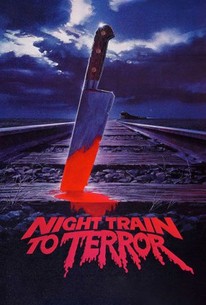 AUDIENCE SCORE
Critic Consensus: No consensus yet.
Night Train to Terror Photos
Movie Info
This unusual horror anthology mixed edited-down versions of one unreleased feature and two previously released films (Death Wish Club and The Nightmare Never Ends) with newly shot wraparound footage to create a surreal combination of crazed plotting and grindhouse gore. The framing device consists of God and Satan on a train full of breakdancing teenagers telling each other stories about humans. The first story focuses on an institute for the mentally ill that is really a cover for a black market organ-harvesting operation. The second story focuses on a man who falls for a woman who is part of group of people that attempt suicide for fun. The final story tells the tale of a group of mortals who attempt to stop Satan from returning to earth to begin the apocalypse. Each episode combines deranged plot twists with heaping helpinds of sex and violence, resulting in a film that plays like a lysergic and deranged variant on comparatively sedate horror anthologies like Creepshow. Night Train to Terror didn't enjoy a great deal of box-office success, but has gone on to enjoy a lengthy life on home video, where it continues to astound (and confound) viewers with its blood-spattered weirdness.
Critic Reviews for Night Train to Terror
All Critics (1) | Fresh (1) | Rotten (0)
Feels like sitting through a horror film festival with a heavy finger resting on the fast-forward button, zooming to all the grisly goodies before it's on to the next sinister story.
Audience Reviews for Night Train to Terror
From the beginning of this movie, I expected a bad movie about some horribly cheesy musicians and their dancers getting killed on a train, but keep watching, it gets a lot better. This is actually an anthology horror movie with three different stories. These stories are bloody, gory, and just really cool. I really enjoyed them. Sure there's a bit of cheese thrown in, but overall, I would highly recommend watching this movie if you're an 80s fan.
Awful anthology of stories, Night Train To Terror is a train wreck of a movie, one that is highly forgettable, and really not worth your time watching. The cast is bad, the stories are poorly thought out, and this simply put, a waste of film. I really didn't enjoy this film, and if you're looking for a well made anthology, you're not going to find it here. This fails in terms of horror and storytelling, and it leaves a lot to be desired from such a sloppily written and thought out film. It's no surprise to me that this is an obscured film, as this is one that should be forgotten. Stick with Twilight Zone: The Movie and Creepshow if you're looking for well thought out and entertaining anthology films. This film just doesn't deliver anything worth mentioning. Except that it's garbage, and it should be avoided by any horror fan that want a film with substance. This is a laughable affair that doesn't have what it takes to make for a truly memorable and entertaining movie. Skip this one; you'll be glad you did. There are no effective chills to be had here, and overall as a horror film it fails. Watch something else; you'll be glad you did. Night Train To Terror is a horrible mess, one that has no redeeming aspects whatsoever. Watch a different anthology, as this one just doesn't cut it. Watching this, you realize why the film has gotten the flack it has received, and rightfully so. This is a poor excuse for a horror film, and there should have been more effort into making this watchable.
While riding a doomed train carrying a teenage band shooting a music video (!), God and Satan debate the eternal fate of three individuals, whose stories we then watch. Rather than anthology shorts shot specifically for this movie, however, these are full-length horror features that have been edited with a hacksaw to fit into twenty-five minute segments; needless to say, the results are incoherent. Jaw-dropping in its badness; a must-see for fans of crap cinema, and an "I dare you to watch this" movie for others.
Night Train to Terror Quotes
There are no approved quotes yet for this movie.