Night Watch
(2006)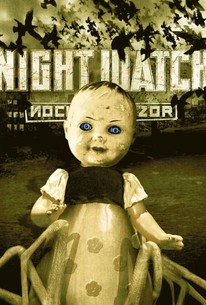 TOMATOMETER
AUDIENCE SCORE
Critic Consensus: This Russian horror/fantasy film pits darkness and light against each other using snazzy CGI visuals to create an extraordinary atmosphere of a dank, gloomy city wrestling with dread.
Movie Info
In modern day Moscow, supernatural armies of Good and Evil, Light and Darkness, gear up to do battle. Set on the gritty streets and subways, and harkening back to bloody medieval days, blood-suckers, changelings, and urban heroes are locked together in the ultimate battle.
News & Interviews for Night Watch
Critic Reviews for Night Watch
Audience Reviews for Night Watch
Night Watch is one of those films that tends to push the limits of a certain genre. The result is a film that displays something unique in terms of storytelling and direction. The film is a new breed on the vampire story, and though not perfect by any means, this one is still quite good and manages to be a roller coaster ride of action and horror from start to finish. At times, you get lost in the plot as you try to understand what is going on, but you do get caught up in the visuals, which is the strength of the film. The plot is good, but it is a multi-layered affair that you may need to revisit just so you get the big picture overall. The direction is stylish and well done with emphasis on action, and slow motion sequences. This film had the potential of being much better than what it turned out to be. Director Timur Bekmambetov always goes for visual presentation while giving the audience a so-so plot. Although the ideas for the plot are quite good, I found them all over the place and underdeveloped for the most part. If there would have been more attention for a cohesive storyline, than on the visuals, then this certainly would have been a great film. The result is an average movie with a good story, but like I said, it was all over the place and lacked flow. The performances were good, and the ideas displayed on-screen are what makes this one worth seeing. I enjoyed it, and I appreciated the fact that Bekmambetov tried to reinvent the genre, but he is a director that crafts films that are a bit hard to follow due to their unique look. Night Watch has its fair share of imperfections, but it is a good twist on vampire lore and it has plenty of new things to add to the genre.
½
There was a lot of hype surrounding this, Russia's take on the vampire myth in which the forces of light and darkness are policed by a group of shape shifting "others" in modern day Moscow. I must admit I was expecting a lot from this film but was rather disappointed. The plot is rather cliched and too easily resolved, with very predictable twists; in fact the so-called ending seemed like yet another film setting itself up as a franchise rather than presenting a credible self-contained story. There isn't that much in the way of action, and what there is is not particularly well handled as the director throws in far too many needless The Fast And The Furious style visual gimmicks; horror fans will also feel unsatisfied as there isn't much in the way of gore or frights either. Add to this the rather naff industrial-goth soundtrack and references to videogames and Buffy The Vampire Slayer and it all feels a little juvenile. It does have some nice sequences and it never bored me, but by the end I couldn't help wondering what all the fuss had been about. Constantine did something very similar and did it a lot better.
Incoherent, messy, rushed, and more than a little cheesy, but nonetheless has its visual thrills and inventiveness to compensate for all of its flaws, at least most of the time. The story is the part that's cheesy, pitting light and against dark in a modern day setting with vampire's and humans called "others". The different is if you choose the light or dark side. Light others are called night watchers because they make sure the dark ones do not break the peace treaty among the two, while dark ones are called day watchers and do the same thing for the light others. It's an interesting take on the old light vs. dark, but the movie doesn't know when to take interest in certain subplots and when to not. Many subplots lead to quick and unsatisfying ending, and the finale is incredibly anti-climactic. It does have a few twists I didn't see coming though, and the movie is never boring. It's frustrating and fascinating in almost equal measure.
Josh Lewis
Super Reviewer
Night Watch Quotes
There are no approved quotes yet for this movie.