Nightfall
(1957)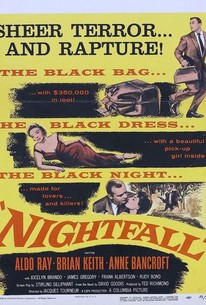 Movie Info
This classic film noir, adapted from a David Goodis novel and filmed by Jacque Tourneur, is the tale of an artist falsely accused of murder who is forced to flee both the law and organized crime when the real killers think that he has their loot.
Critic Reviews for Nightfall
Audience Reviews for Nightfall
Aldo Ray is a man on the run who convinces Anne Bancroft that he's not a killer but a man in the wrong place at the wrong time. Great tale filled with desperate characters, well worth a rental. Recommended.
Bill Bryant
½
In "Nightfall," James Vanning(Aldo Ray) has a conversation with Ben Fraser(James Gregory), an insurance investigator, at a bus stop before deciding to go into a bar. There, he takes a seat next to Marie(Anne Bancroft, impossibly young), a model, and loans her enough money for a drink. They hit it off and agree to meet later which is a shame when John(Brian Keith, highly improbably young) and Red(Rudy Bond) come menacingly back into his life, really wanting to know where the money is which reminds Vanning of happier days, camping with his best friend Doc Gurston(Frank Albertson)in Wyoming. As behooves any good film noir, "Nightfall" works much better in the shadows with its crackling dialogue than in the harsh glare of day. The movie starts well, dealing out clues methodically, especially Fraser's involvement. At the same time, it ably depicts the darkness lurking just behind 1950's conformity as the movie neatly seques between Vanning's lonely story and the domestic back and forth between the Frasers. There is also some fine location work for the time while the supporting cast fares better than the dull lead. Sadly, in trying to find a way out, the movie takes the easiest path in tying together the pieces too tightly for this sort of film.
½
I dunno why, but whenever I watch a noir, I think of a category for it. This belongs to the "clearing his name" subgenre, like The Wrong Man and Kansas City Confidential. There's a few noteworthy elements. As in Out of the Past, Tourneur uses a flashback structure to reveal the story, but this time he fragments it a lot more, often leaving the viewer guessing why the characters are in their situations. This is the first movie I've seen with Aldo Ray, and he has a certain quality to him, kind of a teddy bear toughness. And there's a wonderfully grisly death at the end. Other than that, it's not too special but it's plotted well and a few moments of stimulating photography. Anne Bancroft is lovely, but doesn't seem like a particularly good fit for this role.
Martin Teller
Nightfall Quotes
There are no approved quotes yet for this movie.
Discussion Forum
Discuss Nightfall on our Movie forum!