Nightmares in Red, White and Blue
(2009)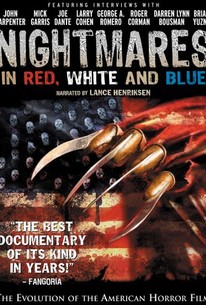 Nightmares in Red, White and Blue Photos
Movie Info
Nightmares in Red, White and Blue: The Evolution of the American Horror Film is a feature-length documentary based on the book of the same name by Joseph Maddrey. It examines the idea that horror films reflect the times and places in which they are made -- illustrating how classic monster movies exploited the anxieties of war-time generations, and how more savage modern horror films stem from the psychic fallout of America's counterculture movement and the subsequent rise of increasingly conservative political forces.At the same time, the documentary explores the timeless, universal appeal of horror movies by examining the pervasive theme of The Outsider. From the silent films of Lon Chaney to the box office reign of Hannibal Lector and his peers, the history of the horror film is a story of the individual at odds with any organization that threatens his life, liberty, and pursuit of happiness. In-depth interviews with many of the nation's greatest horror filmmakers reveal that the appeal of the genre is rooted not only in timely fears but in the spirit of rebellion -- a spirit that consistently defines American life, as well as many of its best horror filmmakers.Nightmares in Red, White and Blue is narrated by horror icon Lance Henriksen and features exclusive interviews with legendary auteurs like John Carpenter, George A. Romero, Joe Dante, Larry Cohen, and Roger Corman, as well as film historian John Kenneth Muir and Fangoria editor Tony Timpone and others. Their observations are illustrated with clips from more than 150 films -- ranging from the classic Universal monster movies to the psychological horrors of film noir, from groundbreaking films like Night of the Living Dead, Rosemary's Baby, The Exorcist and Jaws to contemporary slasher movies, Torture Porn and beyond.In short, it is the most comprehensive documentary on America's most durable and prolific film genre. -- (C) Official Site
Critic Reviews for Nightmares in Red, White and Blue
All Critics (6) | Top Critics (2) | Fresh (6) | Rotten (0) | DVD (1)
A fun and smart documentary for horror fans, filled with dozens of great clips.
It delivers a film school semester's worth of knowledge in 1 tight & thoroughly entertaining feature and goes a long way toward validating horror as a respectable film genre.
Audience Reviews for Nightmares in Red, White and Blue
½
A relatively informative doc that discusses the birth and evolution of American horror movies in a generally entertaining way, but the problem is that a lot of it is tackled only superficially and the movie gets muddled when it enters the 1990s and talks about modern films and remakes.
Carlos Magalhães
Super Reviewer
This is an awesome documentary on the appeal of horror film and the audience's obsession of being scared. Featuring in depth interviews from genre directors and film historians. What this film does very well is give horror fans the complete evolution of the genre, from its early beginnings to today. The film is a must see for genre fans, the interviews are well done, and you can clearly see how the genre became what it is today. As a fan of the genre, I highly recommend this film. The changing times definitely reflected the tone of the movies and inspired most of the genre films. The film reveals everything that makes the genre appealing to audiences. The film also takes a look at how horror films stayed relevant as audiences changed. This is a great documentary about an underrated genre of film. Fans will love this one, but traditional viewers wanting to know more about why the horror genre has the appeal that it has. A thing that really stands out is how different types of horror films have made their mark to help form the genre for what it is. This is a film that is for fans, and anyone looking for a definitive portrait of the horror genre. Brilliantly executed and revealing in terms of material, Nightmares in Red, White And Blue is a riveting and highly engaging documentary that is a terrific expose on exploring our deepest fears through horror films. This is the definitive work on one of the most enduring film genres. If you're a fan of the genre, then don't pass this film up, this is a highly entertaining ride from start to finish and like I've said features great interviews with those involved in the genre. This is a real treat for fans.
½
Nightmares in Red, White, and Blue is a solid documentary that shows the evolution of the American horror film and how different political and social times changed the films. It's really an interesting watch for those who love horror films, and the addition of interviews with people like Joe Dante, John Carpenter, and George Romero makes it even more interesting.  All the way from the universal monster movies of the 30's and 40's to the Saw franchise, different filmmakers and critics talk about the evolution of American horror films. There's endless footage of many, many movies from Dracula to Interview with a Vampire, from Freaks to The Hills Have Eyes and every type of horror genre has its do time. They talk about monsters, ghosts, demons, serial killers, and the unstoppable forces. Horror buffs should rejoice at how the film is set up and presented. As far as documentaries about movies go, this is a pretty good example at how to make an interesting and entertaining one. Movies like this can sometimes be too dull, but Nightmares in Red, White, and Blue didn't fall to that problem. Maybe I'm slightly biased because it's a topic I'm interested in, but if you're not a horror fan, then you wouldn't have much interest in giving it a chance anyway. This deserves a look and if you love the genre, it's a must watch.
Melvin White
Super Reviewer
Nightmares in Red, White and Blue Quotes
There are no approved quotes yet for this movie.