Nights of Cabiria (Le Notti di Cabiria)
(1957)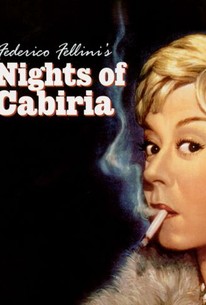 Nights of Cabiria (Le Notti di Cabiria) Photos
Movie Info
Nights of Cabiria opens with Cabiria (Giulietta Masina) and her boyfriend playfully embracing by the seaside -- and then he shoves her into the water and steals her purse. Cabiria is revived by some local boys and runs off by herself, shouting. What follows is a series of similarly humiliating episodes, in which the defiantly positive prostitute Cabiria is hurt, but never broken. She gets picked up by movie star Alberto Lazzati (Amedeo Nazzari, doing a self-parody) and taken to his palatial estate. However, his mistress shows up and Cabiria gets locked in the bathroom all night with the dog. She then joins her fellow prostitutes for a blessing from the Virgin Mary, and ends up getting drunk and wandering into a local show, where the hypnotist invites her to join him on-stage. The audience heckles her, and she toughly reminds them of her independence and that she owns her own house. There she meets Oscar (François Perier), an accountant who romantically pursues her. Despite the warnings of her fellow prostitute friend, Wanda (Franca Marzi), she prepares to sell all her belongings and accept Oscar's proposal of marriage. After being ruthlessly taken advantage of once again, Cabiria walks off alone with a smirk of hope.
News & Interviews for Nights of Cabiria (Le Notti di Cabiria)
Critic Reviews for Nights of Cabiria (Le Notti di Cabiria)
Audience Reviews for Nights of Cabiria (Le Notti di Cabiria)
Giulietta Masina should be forever remembered for her flawless performance in this profoundly touching and devastating tragicomic masterpiece, making us root for her character and her happiness in such a way that it is hard to be left unmoved by what unfolds before us.
Carlos Magalhães
Super Reviewer
Giulietta Masina ("La strada") is absolutely devastating in her role as the titular Cabiria in "Nights of Cabiria" (and when I say devastating, I mean it only in the best sense). Cabiria is quite a character to say the least. A prostitute who puts on a big loud and tough exterior yet is almost fatally naive when it comes to love. In an opening scene, her boyfriend robs her and pushes her in the river to drown. She tries to play it off as an accident, a lover's tiff, but her friends know better. All of her mannerisms suggest someone who's putting on an act, and it doesn't feel as if we're ever allowed to see the "real" Cabiria. Well, almost. Towards the end of the film, we're shown (quite intentionally by director Federico Fellini) the true motivations of certain characters. It's this foreshadowing, allowing the audience in on things, that makes it so heartbreaking when Cabiria finally catches on. Cabiria is all the innocence of the world that we must so desperately cling to, in order to preserve even the slightest remainder of it. Giulietta Masina was married to Fellini for many years and it's through her we see his unique world view focused. Nights of Cabiria features many Fellini signatures: the robust yet voluptious woman, the skeletal structure silhouetted against the sky, and the seemingly random parade of fools, which in Cabiria's world, signals the final triumph of innocence over cynicism: that even in the darkest hour, we can be swayed to smile by the music of children, if it is truly in our nature to do so.
Devon Bott
Super Reviewer
Stefanie C
Super Reviewer
Nights of Cabiria (Le Notti di Cabiria) Quotes
There are no approved quotes yet for this movie.