Nim's Island
(2008)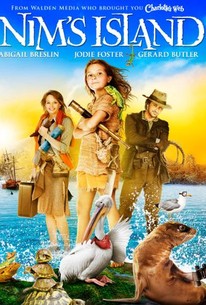 TOMATOMETER
AUDIENCE SCORE
Critic Consensus: Despite good intentions, Nim's Island flounders under an implausible storyline, simplistic stock characters, and distracting product placement.
Movie Info
Anything can happen on Nim's Island, a magical place ruled by a young girl's imagination. It is an existence that mirrors that of her favorite literary character, Alex Rover--the world's greatest adventurer. But Alexandra, the author of the Rover books, leads a reclusive life in the big city. When Nim's father goes missing from their island, a twist of fate brings her together with Alexandra. Now, they must draw courage from their fictional hero, Alex Rover, and find strength in one another to conquer Nim's Island.
People Who Like this movie also like
News & Interviews for Nim's Island
Critic Reviews for Nim's Island
Audience Reviews for Nim's Island
½
I didn't like the story-line at all. Talking animals; characters getting out of impossible situations; totally predictable. I saw it a second time a couple years later, softened my stand a bit and raised my rating by 1/2 a star. At least the plot kept moving.
There's not a lot of adventure in Nim's Island but there is a lot of character development and although it might be confusing for some, the acting and script just about save's it.
Directors Cat
Super Reviewer
½
Your adventure starts here. This movie is basically for a kids audience, in order to really grasp it's full magic you have to be a kid. The film uses alot of imagination which is cool if your a kid but for a grownup like me it didn't really moved me or made me love it more. The story was nice and it had some funny moments. Nim's Island tells the story of a young girl named Nim (Abigail Breslin). She lives on a beautiful uncharted island with her father Jack Rusoe (Gerard Butler), a research scientist studying microscopic marine organisms. She spends her days having wild adventures in the woods along with her animal friends, Fred the lizard, Galileo the pelican, and Selki the seal, and her wild imagination. Nim has a huge passion for books, especially the Alex Rover books. Jack is about to take Nim on a two day research trip looking for protozoa, but Nim begs to be left behind so she can help the hatching baby sea turtles. Jack reluctantly leaves Nim behind and sails out to sea. While he is away, Alexandra Rover (Jodie Foster) the author of the Rover books emails Jack to get his knowledge about volcanoes for her next book. Nim replies thinking he is the great adventurer Alex Rover. Everything goes well until a huge storm hits the island and Jack becomes lost at sea. Nim sends a letter to her literary hero pleading for help. Little does Nim know, that Alex Rover is a woman (Jodie Foster). Alexandra is agoraphobic and never leaves the house. She rarely even opens her front door. Alex also has a wild immagination, whereas her fictional character Alex Rover (also Gerard Butler) talks to her, mocks her, and gives her pep talks. When they find Nim's Letter, fictional Alex badgers Alexandra until he finally convinces her to leave the confines of her townhouse to go and help Nim. After a long and terrifying journey, both of the Alex's make it to Nim's Island and try to help. Will they find Nim's father? Find out by going to see Nim's Island.
Nim's Island Quotes
There are no approved quotes yet for this movie.