9 Dead Gay Guys
(2002)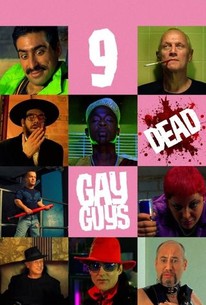 Movie Info
Ky Mo Lab's comedy 9 Dead Gay Guys stars Brendan Mackey as Byron, a young Irishman who comes to London. He is quickly forced to start working as a rent boy in order to pay the rent. He and a co-worker soon discover their clients are being murdered. They search for the killer, with their only lead being the size of the killer's manhood. While the chase is on, the two men become conflicted abut their sexual orientation. 9 Dead Gay Guys screened at the Palm Springs Film Festival.
Rating:
R
Genre:
Directed By:
Written By:
In Theaters:
On DVD:
Runtime:
Studio:
Critic Reviews for 9 Dead Gay Guys
Audience Reviews for 9 Dead Gay Guys
I have a hard time calling this film offensive, because it's far too stupid to be offensive. Sometimes I don't mind stupid comedy, but there's really very little comedy here. It's just one stereotype after another and it never manages to get off the ground. Just a bunch of prattling on about nothing for most of the movie. I'm not sure why I even watched the whole thing.
Amanda Hendsbee
I rented this on a whim when I was 14 and never really thought much of it. The title left an impression on me. Not really my kind of comedy, I was a little bored.
Nicole M
Bright, witty, extremely gay, and thoroughly enjoyable. Forget the sour old hets who've downed this movie; it's a lot of good clean fun. While ruthlessly demolishing every stereotype you can think of, the script takes deadly aim at one of the biggest homophobic lies of all: that sex is all about gain, rather than love. Yes, the film is cartoonish, but that's the whole point. I think it's a deliberate parody of those lurid born-again tracts that feature sinners in hell while the few lucky ones float around a neon heaven. If you don't get this film, then you're either stone hearted or not very bright.
Bela Dornon
9 Dead Gay Guys Quotes
There are no approved quotes yet for this movie.