The Nine Lives of Fritz the Cat
(1974)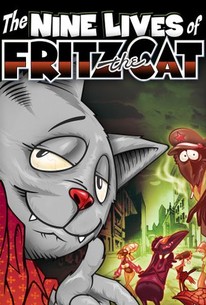 The Nine Lives of Fritz the Cat Photos
Movie Info
Robert Crumb's randy cartoon cat comes to life for the second time in this adult-oriented animated feature. This time the dope-smoking tomcat is saddled with a cranky wife and is dependent upon welfare for drug money. Finding life nowhere nearly as fun as it was in the first film, he spends most of his time pining for his other eight lives. So begins a series of flashback fantasies. Though many of the scenes have strong erotic content, this film is not as racy as the X-rated original. For the record, neither Crumb nor the animator of the original feature Ralph Bakshi had anything to do with this film.
Critic Reviews for The Nine Lives of Fritz the Cat
All Critics (7) | Fresh (3) | Rotten (4) | DVD (1)
The content is memorable, but for its stupidity and pointlessness rather than intelligence and attitude.

By-the-numbers offensiveness -- which is always more offensive, and not in a good way.

Audience Reviews for The Nine Lives of Fritz the Cat
Fritz the Cat is getting (justifiably) chewed out by his wife as he reminisces about the various lives he's led. Most of them involve Fritz begging various ethnic stereotypes to cash his welfare check, but there are also some loopy vignettes involving Hitler and 1930's club life. Vaguely derived from underground comics produced by Robert Crumb (who despises these films), the second Fritz movie was handled by Robert Taylor instead of Ralph Bakshi. The animation is a bit more crisp this time, but the meandering narrative feels lame and forced. There isn't much here to recommend.
Ryan Valentine
½
75% "Sometimes, you see, I would like to be a ballerina."-Hitler Through the chaos of action and noise, is social commentary and cynical criticism. You just have to weed through it, if you know what I mean.
FilmGrinder Stone
The story isn't good, but it's interesting. This one isn't as good as the first by any means, but if you loved the first one, this one will be somewhat enjoyable anyway.
The Nine Lives of Fritz the Cat Quotes
There are no approved quotes yet for this movie.
Discussion Forum
Discuss The Nine Lives of Fritz the Cat on our Movie forum!