Ninja III: The Domination
(1984)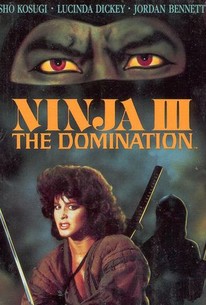 Ninja III: The Domination Photos
Movie Info
In this slick exploitation, martial arts fantasy from schlockmeisters Menahem Golan and Yoram Globus, an evil ninja is killed off in a sandtrap on a golf course in Phoenix -- the police riddle him with bullets, foolishly thinking that is the end of it. But as he is dying, the ninja throws a smoke bomb and, hidden by the dark cloud, he crawls into a phone-company van driven by the acrobatic Christie (Lucinda Dickey of Breakin'). As he dies there, his soul possesses her body, much to the consternation of her boyfriend, Secord (Jordan Bennett). Christie periodically uses exotic Eastern skills to slaughter the evil ninja's foes until good ninja Yamada (Sho Kosugi) comes to her rescue.
News & Interviews for Ninja III: The Domination
Critic Reviews for Ninja III: The Domination
Audience Reviews for Ninja III: The Domination
I haven't seen Ninja III: The Domination, but it has possibly the best name of any movie ever. And for that it deserves recognition.
I cannot remember much from this movie, but I know it was one of my favourites as a kid
Lady D'arbanville
Super Reviewer
Another tape played out plenty as a kid.
Ninja III: The Domination Quotes
There are no approved quotes yet for this movie.