Ninja Cheerleaders
(2007)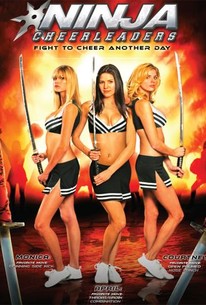 AUDIENCE SCORE
Critic Consensus: No consensus yet.
Ninja Cheerleaders Photos
Movie Info
Trained to kill but determined to cheer their school's team to the championship game, three lethal cheerleading ninjas must put down their pom poms and pick up their katanas when their sensei is abducted by the mob. April, Courtney, and Monica may just be college freshmen, but they can take out an army of ninja assassins with the skill of an ancient master. Schooled in the ancient martial arts by the esteemed Sensei Hiroshi (George Takei), these three beauties spend their days in the classroom and their nights in the strip club - where they work the poles to pay for their college tuition. Then one day, Sensei Hiroshi is abducted and their lives are suddenly turned upside down. Now, in order to rescue their master, April, Courtney, and Monica will have to summon the skills he once taught them and take on a virtual army of mob assassins. With a nosy cop closing in on one side and suspicious parents asking questions on the other, these girls will have to work overtime in order to keep anyone from finding out what kind of destruction they're truly capable of.
Rating:
R
Genre:
,
Directed By:
Written By:
On DVD:
Runtime:
Studio:
High Fidelity Films
Critic Reviews for Ninja Cheerleaders
All Critics (1) | Fresh (1) | Rotten (0)
A valuable time killer if only for the bloopers in the credits and the implied girl on girl...

Audience Reviews for Ninja Cheerleaders
½
This movie probably deserves a half star but making fun of it was enjoyable enough for me to add one more.
Ryan Turner
½
This review contains mature subject matter. My friends and I chose to watch Ninja Cheerleaders because we expected to see a hilariously bad B-movie. Unfortunately, instead, we saw a poorly written, passably acted, unfunny, strange action/comedy with gratuitous nudity, dull characters and... Well, I'm just going to make my accusation: The writer/director has a CBT fetish. There are several scenes where the three protagonists threaten to mutilate male genitalia, and the favorite move of one of the protagonists is a "throat/groin combination". The writer/director actually addresses this issue through dialogue, but doesn't actually stop any of it. I respect the interests and fetishes of other people, but Presley, you're not making an adult film here. Sure, you show a naked woman pole dancing in numerous scene transitions, there are two entire go-go dancing sequences, and there are two topless women in one particular scene, but you also attempt to give the characters some interesting traits and you actually progress the plot at a passable pace. Speaking of the characters, Presley tries to give them way too many traits without developing them at all. They're supposed to be geniuses, they're supposed to be go-go dancers that just want money for college, they're supposed to be cheerleaders, they're supposed to be ninjas, they're supposed to be best friends since first grade, one of them is supposed to have an abusive stepfather, another is supposed to have a mother that is actually accepting of the fact that her daughter is a go-go dancer, and... You get the point. Presley gives them traits, but they are never developed. They never really seem intelligent, and they lack chemistry with one another. The fight choreography didn't impress me; the fight sequences weren't entertaining. The plot was dull, and the setup for a sequel was laughable. Oh, and what was up with the electricity and sparks on the swords during Hiroshi's fight with Kinji? Rating: 3/10 A final thought: Kinji kept referring to herself in the third person. Please, never do this. Trust me, it isn't funny or amusing unless you're doing it briefly to mock someone that does it in an attempt to be humorous.
Jordan Allen
Plain and simply: Ninja Cheerleaders is entirely horrible and a extremely painful waste of time. This "movie", and I say that with the utmost disgust, doesn't even warrant a cheap laugh.
Harlan Vidor
Ninja Cheerleaders Quotes
There are no approved quotes yet for this movie.
Discussion Forum
Discuss Ninja Cheerleaders on our Movie forum!