Ninja Resurrection
(1999)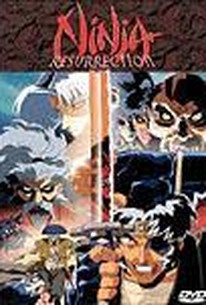 AUDIENCE SCORE
Critic Consensus: No consensus yet.
Movie Info
This critically scorned two-episode OVA touches on a number of sensitive issues, the most volatile of which is religion. It bases its plot around the historical premise of Christian converts being persecuted in feudal Japan. It then tells the tale of a young man who acts as a charismatic leader for Japanese Christians. After being assassinated by a group of ninjas, his spirit returns in the form of a demon, who calls upon magical Christian forces in order to gain vengeance. While criticized for more than just its script, many have pointed out that the possible misrepresentations of Christianity in Ninja Resurrection are simple reflections of its being native to a non-Christian country. Other critics argue that American misinterpretations of Buddhism or Shinto would be no better received in Japan. Overall, Ninja Resurrection has gained a controversial, if unpopular, reputation. ~ Cammila Collar, Rovi
Critic Reviews for Ninja Resurrection
There are no critic reviews yet for Ninja Resurrection. Keep checking Rotten Tomatoes for updates!
Audience Reviews for Ninja Resurrection
Nowhere near as good as Ninja Scroll.
Anthony Valletta
Super Reviewer
½
'Ninja Resurrection' is probably one of the most hated Animes in the Western world because of it's similarities with another classic anime. It was seen as trying to cash in on the success of 'Ninja Scroll' by ripping off it's look and having it's main character named "Jubei" just as NS had. The plot mixes Historical fact with myth and fantasy. The Historical aspect of 'Ninja Resurrection' features the little known struggle of Japanese Christians in the 17th century and their eventual annihilation on the orders of a ruthless Shogun ruler. The fantasy element of the story comes in the form of a prophecy which proclaims Satan's return through the "Heavenly Blessed" leader of the Christian Rebellion, "Amakusa Shiro". All the while, the legendary, "Jubei Yagyu" fights with his conscience and guilt over his part in the massacre of the remaining Christians and comes to realise the sinister occurrences of it's aftermath. The story doesn't carry too much depth or originality, but it's action-packed with battles and sword fights to keep the excitement factor going.The film is ultraviolent though and may be too shocking for some viewers, with bloody dismembered bodies and sadistic acts of violence from the start. The actual animation is very good. The English dubbing of the movie, is adequate, but at times can be poor. One of the real plus points of NR would have to be the music which is pretty good for an anime, it really adds more emotion and intensity during the more important scenes giving them more of an impact. This DVD contains the first two parts of what were to be a continuing series, but that was unfortunately scrapped because of it's poor reception it recieved, which is a shame because I think it started quite positively. Overall I'd have to say I really enjoyed 'Ninja Resurrection' but it may seem a pointless purchase due to the series not being completed. Therefore I could only recommend it to lovers of gore soaked action/horror anime movies.
Ninja Resurrection Quotes
There are no approved quotes yet for this movie.