Project Ninja Daredevils (Ninja the Protector)
(1986)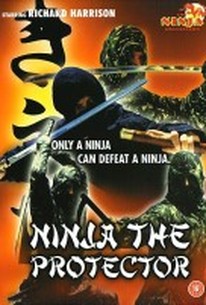 AUDIENCE SCORE
Critic Consensus: No consensus yet.
Project Ninja Daredevils (Ninja the Protector) Videos
Project Ninja Daredevils (Ninja the Protector) Photos
Movie Info
In this actioner, a good ninja takes on a ninja crime lord. ~ Sandra Brennan, Rovi
Rating:
NR
Genre:
,
Directed By:
In Theaters:
On DVD:
Runtime:
Studio:
SKC Films
Critic Reviews for Project Ninja Daredevils (Ninja the Protector)
There are no critic reviews yet for Project Ninja Daredevils (Ninja the Protector). Keep checking Rotten Tomatoes for updates!
Audience Reviews for Project Ninja Daredevils (Ninja the Protector)
cant believe this is actually on flixster, my friend bought it for 50 cents in a porn store and we watched it for a laugh. Its a movie that is ed wood bad, with poor dubbing, effects, and acting, i dont even know what the plot was, i recommend this for the next b fest
Daniel Sloyan
Interpol officer Jason Hart (Harrison), who is secretly a Ninja Master, brings all his wits, Ninja Magic, and dimwitted fellow Interpol officers to bear against a counterfeiting ring and modeling school that is being operated a cult of Evil Ninjas and their leader, Bruce (Bowles)! "Ninja the Protector" starts showing its sad low- to no-budget origins early on when snapshots of the actors are used to simulate the "hi-tech" retinal scan the Evil Ninjas must pass before enteriing the Lair of Bruce. They become further evident when a room full of Interpol agents have to pass the same Kodak snapshot of a wanted criminal around the table. (With a budget like that, it's amazing Interpol ever catches anyone!) This film is another "Frankenninja" movie, where some movie that has nothing to do with ninjas and their nefariousness--and in "Ninja the Protector", they're especially nefarious, as not only are the ninja tricking aspiring models to sign up for overpriced classes, but they're also spreading around counterfeit US dollars--that has been redubbed and intercut with new ninja footage in an attempt to make a unified whole with a new storyline. This is the best of these kinds of movies I've seen so far. While the plotline about the Interpol agent undercover at the ninja-backed modeling school/counterfeiting ring and his family and romance trouble seemed oddly disconnected from the business with the underfunded and not-too-bright Interpol agents and their ninja leader, there was every indication that the two stories would merge, as it appeared (through some clever dubbing and editing) that all the footage truly had been intended to be part of the same movie from the very beginning. The illusion starts to fall apart as the film builds toward its climax, however. As the film moves toward its climax, what had appeared to be progressing plot and subplots suddenly fractures into two totally different plots, each which has its own rather sudden and unsatisfying resolutions. Yes, the Evil Ninja Cult and its funny-money distributing modeling school is put out of business for good, but how about Warren and his relationship with Interpol? What about Jason, now that his staff knows he's the Ninja Champion? The film makes no effort to close any of the movies story arcs. It just ends. Before the film reaches its abrupt ending, it does offer up much unintended hilarity. When I said this was the best of this kind of movie I've seen so far, I'm measuring it against some pretty awful stuff, and I'm not implying it's good, despite its slightly more coherent nature. It's not just the Ninja hijinx that make this movie funny... it's also the completely awful dialogue like, "I like people who are honest and you lied to me earlier, but now you're telling me the truth, so I'll hire you." (On a sidenote, this film really made me wonder who the intended audience for it was. The story is so lame that no adult can be expected to take it seriously, but I suspect a ten-year-old would love the Ninja Action and would buy into the whole counterfeiter/modeling/ninja thing. Hie might even like the ending. But the film is NOT suitable for ten-year-olds due to sexual content and a particularly unsexy sex-on-the-beach scene. Those elements are completely gratuitous, but they make certain the one group who would love this film won't get to see it. Or are fans of ninjas movies as undescriminating as I'm starting to fear? It seems like a higher percentage of crap was shoveled their way than any other niche audience.) As far as the Ninja battles go... they're suitably goofy with plenty of pointless acrobatics and posturing. What's even goofier is the camoflage outfit that the Good Ninja wears. (I think this must be some sort of ancient Ninja Rule... I've now seen this ludicrous camo suit in two different movies.) What the battles lack is any sense of excitement, as they're poorly choreographed. The goofiest Ninja Battle is also the only one that's most interesting. It sees the Good Ninja (Jason of Interpol) battle the Evil Ninja (Bruce of the Kewl Underground Lair and the Counterfeiting Modeling School) engage in something like a joust while riding motorcyles. The only thing that would have made that scene better would have been if they'd been riding Kawasaki Ninjas. (By the way, aspiring screenwriters: I know Bruce Lee was a bad ass. Bruce Campbell is pretty cool, too. But it's always a Bad Thing to name your main villain "Bruce." No one is ever going to take a bad guy named Bruce seriously... particularly not when he's running a modeling school that's a front for a counterfeiting ring that's a front for an Evil Ninja Cult.) "Ninja the Protector" is not a good movie by any measure, but it is full of unintentional hilarious moments. It will be right at home as part of the line-up for a Bad Movie Night. But that's about all it's good for. Ninja the Protector Starring: Richard Harrison, Warren Chan, and David Bowles Director: Godfrey Ho
Steve Miller
This movie is terrible, and in that way it's actually quite good. First off I'm pretty sure this was actually two separate movies that were spliced together. Like some studio had started making a movie about ninjas but then they ran out of money so they just spliced in a bunch of clips from an old hong kong kung fu movie. The director must have felt brilliant when he decided to have the two casts interact over the telephone in short choppy conversations... I thought so too. Bottom line: this movie is just purely ridiculous, go watch it!
Mark Hesder
Project Ninja Daredevils (Ninja the Protector) Quotes
There are no approved quotes yet for this movie.
Discussion Forum
Discuss Project Ninja Daredevils (Ninja the Protector) on our Movie forum!