Los Angeles Streetfighter (Ninja Turf)
(1986)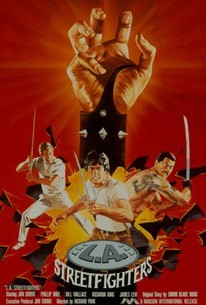 AUDIENCE SCORE
Critic Consensus: No consensus yet.
Los Angeles Streetfighter (Ninja Turf) Videos
Los Angeles Streetfighter (Ninja Turf) Photos
Movie Info
In this martial arts flick, Los Angeles is once again torn by street gangs, who are still killing each other over the same things, year after year -- drugs, money, power and glory. Young (Jun Chong) is the leader of a gang, but his goal is to return to his homeland where he belongs and leave this the insanity of L. A. behind. Standing in his way is a turf war, a family falling apart at the seams, and a bang-up, knock 'em dead showdown with a powerful drug cartel and its chief hitman, Kruger (Bill Wallace). ~ Eleanor Mannikka, Rovi
Rating:
R
Genre:
Directed By:
Written By:
In Theaters:
Runtime:
Studio:
Ascot Entertainment Group
Critic Reviews for Los Angeles Streetfighter (Ninja Turf)
There are no critic reviews yet for Los Angeles Streetfighter (Ninja Turf). Keep checking Rotten Tomatoes for updates!
Audience Reviews for Los Angeles Streetfighter (Ninja Turf)
Worst Best movie ever. Instant classic :) Hilariously amazingly wrong and awesome at the same time.
arnold tarin
This was a heck of a film. It is a Korean film shot in LA. It features street gangs who are interracial, are enrolled in college, and fight each other with 4 foot sticks; you know, just like real street gangs. One is lead by a typical gang leader / college student, a man with a receding hairline who is about forty and lives with his mother who's about the same age as he is, maybe a bit younger. Not the actor I would have chosen for the roll, but he is probably world-famous in Korea, so why not? To the extent there is a message to the film, it is that America is a bad place for Koreans, and that Los Angeles though violent is completely devoid of guns. The budget is low, the fights poorly choreographed, the dialog is badly dubbed (even the Americans), the screenplay is lousy, and the direction and editing is amateurish. Still, there is a certain camp quality to it, and I've wasted time in worse ways on a Friday night.
Roy Smith
It has some of the most unintentionally hilarious dubbing and dialogue I've ever seen. It's got the 80s martial arts movie characteristic where outnumbered heroes routinely eff up 10 times their number of bad guys without breaking a sweat. Actors who look like they're 40 play high school characters to ludicrous effect. Still, this has probably got to be the first Asian-American street gang movie ever, so it gets a star. It gets another star for having a white teenage gang leader be a Chinese dude who can barely speak English. Still debating whether to add a half star for the best black-man-crying-about-sleeping-on-the-streets scene ever.
The Heckler
Discussion Forum
Discuss Los Angeles Streetfighter (Ninja Turf) on our Movie forum!