The Ninth Day (Der neunte Tag)
(2005)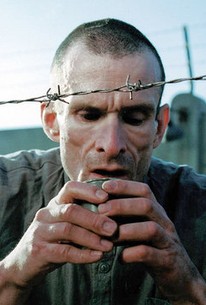 TOMATOMETER
AUDIENCE SCORE
Critic Consensus: Fueled by tension-filled performances and dialogue, this Holocaust film brings up morally ambiguous, thought-provoking issues.
The Ninth Day (Der neunte Tag) Videos
The Ninth Day (Der neunte Tag) Photos
Movie Info
Acclaimed filmmaker Volker Schlöndorff directed this story of a war of words between a Nazi soldier and a man of the cloth. In 1942, Henri Kremer (Ulrich Matthes) is a Catholic priest who, like three thousand other Catholic clergymen, has been sent to the Dachau prison camp by Nazi authorities for espousing his faith and speaking out against the Axis leadership. Shortly after Kremer receives word that his mother has passed away, he's pulled from the ranks at the camp and sent to Luxembourg, where he used to live and lead a congregation. While Kremer at first believes his well-connected family has arranged for his release, he soon finds this is not the case -- Untersturmfuehrer Gebhardt (August Diehl), a ranking member of the Gestapo, informs Kremer that he's been given a nine-day respite from the camp for a special assignment. Kremer is well acquainted with Bishop Philipp (Hilmar Thate), leader of Luxembourg's Catholic community, and the Nazis want the bishop to sign a letter pledging full cooperation with German authorities, something he has been unwilling even to discuss. Gebhardt wants Kremer to persuade the bishop to sign the document; if Kremer fails to meet this goal, he's told 18 priests from Luxembourg currently in Dachau will all be killed. What Gebhardt prefers not to mention is that if he can't find a way to secure the bishop's cooperation, he'll be transferred from his comfortable post to a death camp in Eastern Europe. Der Neunte Tag was based on the true story of Luxembourg priest Father Jean Bernard, who wrote of his experiences in the book Pfarrerblock Z4587.
Critic Reviews for The Ninth Day (Der neunte Tag)
Audience Reviews for The Ninth Day (Der neunte Tag)
A fabulous build up to a day when a priest must decide whether or not to be a collaborator for the Nazi regime or to go to death by opposing it. The tension builds towards the eventful day and the choice is not foreshadowed.
John Ballantine
Super Reviewer
½
The Choice of a Single Man The relationship between the Catholic Church and the National Socialist Party was a complicated one. This is probably why it is so often misrepresented. You can't just say that the Church collaborated with the Nazis. You can't just say that the Nazis were religious [i]or[/i] atheist. Well, obviously, you can--so many people do, after all. However, if you are interested in historical accuracy, you cannot. If you are interested in historical accuracy, you must acknowledge that there are all sorts of issues involved. In fact, I was reading about the interaction between Pope Pius XII and the Nazi government, and it shows that the Church held far less culpability in what happened in the Holocaust than they are painted to have done in popular culture. It is uncertain what the Pope could have done if he'd wanted to, and in fact he did rather more than he is remembered for doing. However, there were also definitely people of faith who believed the Nazi rise was right. There were, as it happens, priests in Dachau. One of them was Father Jean Bernard, called Henri Kremer (Ulrich Matthes) in the film. His family is prominent in his home country of Luxembourg, and he personally is friends with the bishop. And so he is granted leave from Dachau--unheard of!--to go back to Luxembourg and convince the bishop (Vladimir Fiser, I think) to declare that the Church in Luxembourg allies itself with Nazi Germany. He is given nine days. He will meet with Untersturmführer Gebhardt (August Diehl) every day and report on his progress. If he runs away, every cleric from Luxembourg in Dachau's "priest block" will be killed. His family will also be put in danger. Perhaps worst of all, Gebhardt is a lapsed seminarian who works at convincing Kremer that betraying his country is the right thing to do--maybe the only thing to do. He preys on Gebhardt's faith, and of course there is the belief that just doing what he asks will keep Kremer from returning to Dachau. The movie is, however loosely, based on true events. Oh, the Luxembourg Gestapo apparently did not know that Father Bernard was getting released, but for reasons no one knows to this day, he got a brief furlough from Dachau. He got ten days, and then, he went back. This story is putting a reason forward. It's also true that the Nazi Party was in a constant battle to make itself legitimate in the eyes of the faithful. I don't know any details about the Catholic Church in Luxembourg during World War II, but it seems likely to me that Nazis felt getting the Church there on their side would help end the Resistance. I doubt that's true, and indeed, one of the only people on the Wikipedia list of Luxembourgian Roman Catholic priests (at least in English) was executed as a collaborator after the war. The people would have continued to fight despite what the Nazis wanted from them, I suspect, and despite what was being preached from the pulpit. Of course, the theology may well be the most interesting part. As part of his efforts to wear Kremer down, Untersturmführer Gebhardt reveals the thinking that he has done on Judas. Dogma holds that Judas is in Hell (I disagree with this for complicated reasons), but Gebhardt argues, rather persuasively, that Judas is as important to the faith as Jesus. Without the Crucifixion, there is no faith. This is not terribly unlike my own reasoning for why Judas is not in Hell, though I'm not sure I'd go quite so far. The theology is hard to explain, and the point here is that Luxembourg must fall in order to ensure that the Church will continue afterward. In order to have a Church in the post-war world, the Church must join with the Nazis. Now, I don't know if Gebhardt himself believes this. I'm not sure he believes there ought to be a Church. But it is a persuasive argument for a former seminarian to make to a priest. Given it was what Gebhardt's thesis was supposedly about, I have no doubt that he could have documented everything meticulously, had he felt the need. Most Holocaust movies are driven by questions about what ordinary people would do in such extraordinary circumstances. We like to think that we would do the right thing, but movies like this suggest that it is possible for everyone to fail. Father Kremer tells in his diary the story of a lapse which might have caused the death of one of the other prisoners. On the other hand, making the decision differently might have caused Kremer's death, and who knows what difference that might have made with how Luxembourg's Catholic Church interacted with the Nazis? Kremer was the right man in the right time for the events posited by filmmaker Volker Schlöndorff. As I said, there is no reason to believe this was the case for Father Jean Bernard, especially given that I don't know very much about him. But these movies are most frequently about men who were able to make decisions that not everyone could manage. That's why we make the movies about them in the first place--because they are extraordinary.
Edith Nelson
The Ninth Day is a depressing exercise in futility. It's the classic "damned if you do, damned if you don't" paradox. Henri Kremer can save himself and his fellow clergy inmates from the Dachau concentration camp by persuading the bishop to change his stance regarding the Nazis. This would be in conflict with the Vatican's official stance, but would save lives. Otherwise, he could save himself by fleeing Luxembourg, but his family and his fellow clergy still in Dachau would all be killed. Otherwise, he could do nothing and continue as a prisoner in Dachau. These are not exactly the most ideal choices and, needless to say, Kremer's exploration of these possibilities does not offer much in the way of entertainment value. Ulrich Matthes stars as Kremer and his performance is one of intricacy. He does most of his acting with his movement and his facial features. His dialogue is kept to a minimum, with exception to a couple of brief outbursts. Kremer is a man fighting his own morality and Matthes expresses this flawlessly. In his scenes with August Diehl's Gebhardt, he is nothing short of brilliant. The subtle nuances in the way he uses his eyes and moves his body lets us know that there is a lot more going on in his head than what he is letting on. Considering the possible implications of what Kremer could say, perhaps it was necessary for him to keep his dialogue to a minimum. These scenes are really the back bone of the movie as they are the only scenes that offer any legitimate drama. The Ninth Day is only 90 minutes in length, but it feels much longer. The film suffers from a lack of pacing as there is not enough conflict to support the story. There are occasional flashbacks which give us a better understanding of the mental psyche of Kremer, but there is not enough character development to make us genuinely care about him or his dilemma. The film has the entertainment value of a standardized test and that is essentially what it is. What decision will Kremer ultimately make? It's not exactly "Who shot J.R.?" is it? The performances are all adequate to strong, the cinematography has moments of beauty (especially in the flashback sequences), and the screenplay offers up some thought-provoking ideas (Judas' betrayal necessary for Christianity's existence), but the film is a hollow shell which does not offer anything to the viewer other than a hollow feeling.
Adam Holt
The Ninth Day (Der neunte Tag) Quotes
There are no approved quotes yet for this movie.
Discussion Forum
Discuss The Ninth Day (Der neunte Tag) on our Movie forum!