No Man of Her Own
(1950)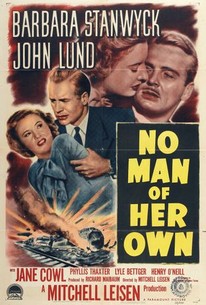 AUDIENCE SCORE
Critic Consensus: No consensus yet.
Movie Info
In this romantic melodrama, Barbara Stanwyck plays a pregnant young woman who is abandoned by her callous lover. With only a train ticket, the despondent woman heads for home. While aboard the train she meets a wealthy young couple heading home to happily announce their new baby. The wife is particularly excited for she has yet to meet her in-laws. Stanwyck admires the young woman's beautiful wedding ring and the latter generously allows her to try it on. With no warning the train derails and both the young groom and his bride are killed. Stanwyck survives but is rushed to the hospital where she gives birth. Because the ring is still upon her finger, she is mistaken for the dead girl and taken into the bereaved family's posh home. Fortunately, the accident gives the opportunistic young woman the opportunity to conveniently feign amnesia when they ask her too many personal questions. Still the family accepts her as one of their own and she lives happily until her rat of an ex-boyfriend shows up and threatens to blackmail her. Fortunately, by this time, her "brother-in-law" has fallen in love with her and intervenes.
Rating:
PG
Genre:
, ,
Directed By:
Written By:
In Theaters:
On DVD:
Runtime:
Studio:
Paramount Pictures
Critic Reviews for No Man of Her Own
All Critics (1) | Fresh (1) | Rotten (0)
Most of the strength of the movie rests on Stanwyck -- one of the greatest of all screen actresses -- and her ability to sell this story.

Audience Reviews for No Man of Her Own
½
stanwyck owns this picture, leisen's only noir film. great up until the last few minutes when it gets a little too expository for my liking. and i wish they'd kept cornell woolrich's original title: i married a dead man
Stella Dallas
Super Reviewer
Actually, the Title Is a Lie For Most of the Film What's surprising to me about this movie is not that they later remade it with Rickie Lake in the Barbara Stanwyck role, though I'll admit that's a bit surprising. No, the surprising thing is that the movie got made at all. After all, Barbara Stanwyck has a child out of wedlock in it. I mean, for a movie from 1950, that's shocking. Oh, she gets married at the end, as we all know she's going to from the minute the love interest is introduced. But the fact remains that she is a fornicator, and she only sort of suffers because of it. At least, in the Code sense. We can reasonably expect her to die for her sins in most Code movies, if they're willing to let those sins happen at all. Mostly, they weren't. Barbara Stanwyck seems to have been the go-to source for skirting the very boundaries of what the Code would permit. This is the woman, after all, who played Gypsy Rose Lee in a movie long before Natalie Wood ever did. Helen Ferguson (Stanwyck) is heavily pregnant. She begs the father of her baby, Steve Morley (Lyle Bettger), for help, and what he gives her is a one-way train ticket to New York. While she's on the train, she meets Hugh (Richard Denning) and Patrice (Phyllis Thaxter) Harkness. They are kind to her, even insisting that she eat with them in the dining car, whether she can afford to pay for her own meal or not. They are going to see his family. Helen and Patrice are in the train bathroom, and Patrice hands Helen her wedding ring to wear while Patrice washes her hands. She tells Helen to slip it on so it won't get lost. And at that improbable moment, there is a train wreck. Naturally. And Patice and Hugh are killed, and Helen is wearing Patrice's wedding ring, and so she is mistaken for the Mrs. Harkness no one has ever seen. The baby is delivered by emergency c-section, and the Harkness family begs the woman they think to be Patrice to come stay with them so they can raise Hugh's son. Helen wants what's best for her son, so she agrees. And slowly, she comes to love the Harkness family--especially Hugh's brother, Bill (John Lund.) However, Helen has a past, and it catches up. Graham says the two versions of this movie are very similar, but I couldn't say, having never seen the remake. He says this version is more melodramatic, but to be perfectly honest, this is a ludicrous situation. Oh, the movie goes out of its way to make it less ridiculous. Bill Harkness married the real Patrice in Paris, which is why his family had not yet met her. And in 1950, there's something more of a possibility that there wouldn't be pictures, although it's still a little unbelievable that there isn't so much as a wedding snapshot. However, in order for Helen to pull off her deception, she has to count on never seeing anyone who had ever met the real Patrice Harkness. She had better hope that Patrice was an orphan--raised in an orphanage. After all, just one visit from even a cousin would be enough to bring down the charade, since Helen only has as much information as she was able to glean in an hour or so. The Harknesses are willing to forgive much, but there's only so much possible. Of course, the movie goes out of its way to establish that Helen was Not a Gold Digger. She doesn't want any of the Harkness money for herself. Her whole reason for going along with the mistake is to ensure that her son will have a name and that he will not want for anything when he gets older. When her "father-in-law" (Henry O'Neill) tells her that he is changing his will so that she will get three-quarters of his estate after "Duchess" (Jane Cowl) is cared for, she freaks right out. Helen is not in this for the money. Even if she had not be unconscious for a considerable length of time after the crash, she never would have claimed to be Patrice Harkness on her own. It was just that, by the time she was aware of what was going on, everyone thought that was who she was. It was the names engraved on the wedding band, you see. And Patrice's ill-fated statement that she didn't believe in bad luck. Which is possibly the silliest moment in the entire movie, but there you are. As I write this, a friend's baby is in an incubator. I have no doubt that everything will be fine, but the fact remains. Women are willing to do a lot to protect their babies. It also means that I was a little more struck than I think many people would be by the fact that Helen was not allowed to touch her son for much of her hospital stay, that they were afraid that it would be bad for mother and child. I find it a little alarming that any hospital would really seriously consider letting a mother not touch her child for a week and tell her that, if she was allowed to, she would be lucky. Helen's son (whose name I don't remember, because it doesn't matter) is being raised in a loving extended family, even if it isn't quite his own. Their servant, Josie (Esther Dale), is as much a member of the family as a housekeeper, pestering the elder Mrs. Harkness about her health and getting snippy if she doesn't think everything is going just right. But there is still, to me at least, a tiny worm of concern about how that missed contact with his mother will influence that boy's life further down the road.
Edith Nelson
½
Stanwyck is one of my favorite actresses from this era of film, and she is great in this story of assumed identities and those who know her secret.
Luke W
No Man of Her Own Quotes
There are no approved quotes yet for this movie.