No End in Sight
(2007)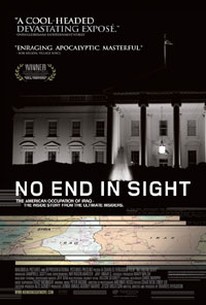 TOMATOMETER
AUDIENCE SCORE
Critic Consensus: Charles Ferguson's documentary provides a good summary of the decisions that led to the mess in post-war Iraq, and offers politically interested audiences something they'd been looking for: a lowdown on the decision making.
Movie Info
Filmmaker Charles Ferguson draws on over 200 hours of footage to explore the manner in which the fundamental flaws in U.S. policy created the chaos that threatens to plunge the nation of Iraq into civil war. Interviews with a collection of high-ranking officials including former Deputy Secretary of State Richard Armitage, Ambassador Barbara Bodine, Colonel Lawrence Wilkerson, and General Jay Garner offer candid insight into the ways that insufficient troop levels, the disbanding of the Iraqi military, and the removal of professionals from the Iraqi government contributed to the insurgency that would continue to destabilize Iraq long after President George W. Bush declared "Mission Accomplished" back in 2003, while additional conversations with Iraqi citizens, American soldiers, and renowned analysts offer a more intimate take on the tragic quagmire. A comprehensive dissection of the Bush administration's perplexing penchant for placing those with little military experience, virtually no knowledge of the Arab world, and a complete lack of personal experience in Iraq in charge of an operation that could destabilize the entire Middle East if improperly handled highlights how blatant arrogance and lack of foresight have served as the catalyst for a violent nightmare that shows no signs of ceasing. By affording Americans the rare opportunity to witness the inner workings of the White House, the Pentagon, and Baghdad's heavily guarded Green Zone, No End in Sight presents a sobering meditation on the controversial war that has cost the American people over two trillion dollars, weakened the U.S. military as it strengthens Iran, and claimed the lives of far too many American soldiers and Iraqi civilians.
News & Interviews for No End in Sight
Critic Reviews for No End in Sight
Audience Reviews for No End in Sight
Incredible documentary about the war in Iraq, No End in Sight is a brilliant picture that goes in depth about this controversial war. The film goes in depth with incredible information about the war, and it is a riveting, informative film about how this event came into motion. The motivation for the invasion of Iraq is explored, and key insiders and experts are interviewed here to give a definitive perspective on the war. The interviews are well done, and the information that each subject brings to the table sheds even more light into this war. The war in Iraq was predetermined even before the events of 9/11, and the Bush Administration tried to link Al Qaeda and Saddam Hussein's regime. The Bush doctrine came into play, and George Bush deceived the country by invading a country that had no links whatsoever to Al Qaeda or the 9/11 plot whatsoever. The whole idea of the invasion of Iraq was based on the errors committed during the first Gulf War. This is a fine film for anyone looking to know more about the Iraq War. The documentary is engaging, shocking and memorable. In terms of the subject, it definitely is a picture that will surprise you with its information. I read books on the subject, and I know how this war came to be, and this documentary only adds a lot more depth to what most of us know. Well crafted film that is a must see for anyone who are interested in the subject, No End in Sight is stunning insight into the war, and one that is necessary to understand. In terms of a documentary, No End in Sight is a standout genre film that definitely can stir up some debate and make you ask important questions.
½
If all that is said is true, then this is like some kind of twisted Orwellian nightmare. It's Animal Farm all over again as a select few individuals make the choices. Terrifying in more ways than one, the film shows the disastrous war, planned out my money grabbing idiots. It's not just the dying soldiers/Iraqi civilians that highlight the problems, but also the unemployment and destruction of Iraq's cultural heritage. The only protection is offered to the oil fields. Again, the big names refuse to take part. But there are some balanced arguments, which sometimes fall into "he said/she said" retorts. No End In Sight is riveting stuff, and if even just a handful of claims are true, then it's worth taking note.
Luke Baldock
Super Reviewer
Sarah Gaish
Super Reviewer
No End in Sight Quotes
| | |
| --- | --- |
| Iraq Correspondent: | "There is no insurgency in Iraq, there is a high level of domestic violence" |
| Iraq Correspondent: | There is no insurgency in Iraq, there is a high level of domestic violence. |
Discussion Forum
Discuss No End in Sight on our Movie forum!