No God, No Master
(2014)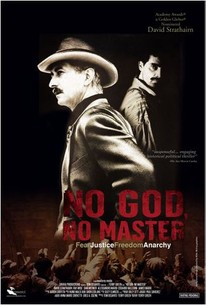 Movie Info
When a series of package bombs show up on the doorsteps of prominent politicians and businessmen in the summer of 1919, U.S. Bureau of Investigation Agent William Flynn (Strathairn) is assigned the task of finding those responsible. He becomes immersed in an investigation that uncovers an anarchist plot to destroy democracy. Based on true events of the 20's the film sets the stage for a timely drama with resoundingly similar parallels to the contemporary war on terrorism and the role government plays to defeat it. (C) Monterey Media
Rating:
PG-13 (for some acts of violence)
Genre:
,
Directed By:
Written By:
In Theaters:
On DVD:
Runtime:
Studio:
News & Interviews for No God, No Master
Critic Reviews for No God, No Master
Audience Reviews for No God, No Master
½
David Strathairn carries this enterprise with some confident support from a fine cast, including Ray Wise as the US attorney general. NO GOD NO MASTER was made on a shoestring, and the screenwriter/director may have succumbed to a temptation to equate historical events (Sacco and Vanzetti, the Ludlow Massacre, the anarchist movement of the early 20th century) to the war on terror in our own time, yet the story works well. The film is short, tight, intelligent, and quite entertaining. This is one of those roles which demands Mr. Strathairn's characteristic minimalism. It's his movie, and he opens it up to all of us.
Michael Lynch
Illuminates a period we all studied in school, but probably sleep walked through -- as did I. "Blaa, blaa, blaa, immigrants, blaa, blaa, Labor, Unions, blaa. This brought it all to life and, showed the similarities between the stance on terrorism of certain government members then with those is recent administrations (hint: it's almost identical!).
Mary Corbett
No God, No Master is the sort of film that clearly has a lot to say, a lot of history to convey, yet struggles to do so effectively in a self-contained film. It's a period piece of historical merit, certainly, but also one plagued by a sort of routine by-the-numbers filmmaking that makes it less compelling than it should have been. Set in the summer of 1919, the film looks at the events following a series of packaged bombs sent to prominent politicians, industry men, and bankers. The ensuing terror unleashes the overzealous attorney general, Alexander Palmer, who subsequently orders the arrest and deportation of thousands of immigrants, termed the Palmer raids. The film clearly sees a parallel to our current situation today, with civil liberties coming under assault in the wake of hysteria arising out of terror. Like the film's protagonist, Agent William Flynn, the film argues for a more restrained, cool-headed approach. Agreed, but I was hoping it would be conveyed in a dramatically compelling way. Too often with No God, No Master, we feel as if we are being both preached to and lectured at, with dialogue making a point to constantly underline the historical significance. It is a fine line, to be sure, yet I felt the film was too conservative in its approach, despite some generally good performances, especially by David Stratharian. Overall, the direction was competent, the performances serviceable, and the story interesting. Yet the execution was lackluster, making it a so-so film. 3/5 Stars
Jeffrey Meyers
Super Reviewer
No God, No Master Quotes
There are no approved quotes yet for this movie.