No Name on the Bullet
(1959)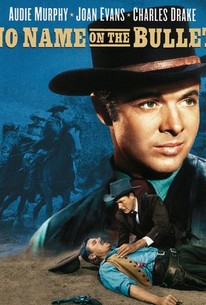 AUDIENCE SCORE
Critic Consensus: No consensus yet.
No Name on the Bullet Photos
Movie Info
In this western, a vengeful gunman rides to Lordsburg. The local residents are quite nervous as none are sure exactly who he is gunning for. Neither is he, and so a game of waiting and watching begins.
Rating:
NR
Genre:
, ,
Directed By:
Written By:
In Theaters:
On DVD:
Runtime:
Studio:
Universal
Audience Reviews for No Name on the Bullet
½
No Name on the Bullet has a very basic premise: assassin comes to town and nobody knows who he's gonna kill. One of cinema's most overused and extremely poorly executed plot devices is the town mob turning in on itself and in my opinion has ruined what would have otherwise been fantastic films. The Mist for example was completely butchered by an unrealistic and overly dramatic mob (IMO). No Name on the Bullet is ripe for the same ruination, but pleasantly tip-toes past the many land mines and delivers a satisfying mostly realistic story. It's helped along the way with a fantastic low-key yet psychologically mesmerizing performance by Audie Murphy (the assassin). The film is really a character study of paranoia in the human condition, set in the alternate universe we call the western.
Jeff Q
An oddly disturbing Western, in which Murphy plays a complex psychopath - and the closest thing to a hero in this bleak drama of death and fear.
Bleak Mouse
I've seen three very interesting movies in the last couple of days. First I finally caught up with "The Full Monty". I know I'm probably one of the last people in the English speaking world to see this movie but it turned out to be as good as advertised, very funny of course but with an undercurrent of tragedy in how the closing of the steel factories and loss of work had really emasculated the lead characters, so much so that the only way they could escape from their misery for a while to be male strippers for one night, and even then you knew things were still going to be crap for them the next day. Then I saw or rather, experienced, "Napoleon Dynamite". There are movies that self-conciously try to be weird and funny (Calling Kevin Smith.) and movies that are strange and hopelessly bent from the word go. "Napoleon Dynamite" is so out there it seems to have dropped in from an alternate universe. Where do you start? The hero with his red Chia-Pet perm and "sweet" moon boots? His equally nerdy brother who spends his time chatting with women on the internet but by film's end, is going off to Detroit with a beautiful black woman decked out like an authentic hoodie rat? Uncle Rico, the tupperware and breat enhancement pills salesman with the Scott Baio haircut? The pet llama? The way half the characters in the movie seem to walk around in a stoned daze? I was laughing at this thing from the first minute and didn't stop until the closing wedding sequence by which time the sight ofNapoleon riding a horse across the countryside to present as the happy couple's honermoon car seems perfectly logical This movie is the offspring of a shotgun marriage between David Lynch and Buster Keaton and I loved it. Certain other directors' movies about rambling stoners can't hold a candle to it. Then Sautrday morning I ran across an unexpected gem on TCM, "No Name On The Bullet", a 1959 Audie Murphy western that was very unconventional. In fact transported to another setting like an outer space colony, it would have made a nifty episode of The Twilight Zone. Murphy played a hired killer who one day rides into a small town and checks into the hotel, giving no indication of why he's there. The fun part is he almost doesn't need to do anything else. Everyone in town knows he's an assassin and those with a shady past freaks out, thinking he's been hired to kill them. Before the movie ends, there's a suicide, a gunfight and a bunch of dead bodies, none of it directly caused by Murphy. In fact though he does shoot and wound a couple of characters, Murphy's character doesn't kill anyone in the film. There are some obvious themes about the dirty secrets in people's pasts and fear leading to hysteria, but those are never stated explicitly. Instead Murphy and the movie's one heroic character, a doctor, have conversations about guilt, punishment and the inevitability of death. At the end of the film, Murphy rides off with his gun arm broken andhis dialogue gives the strong suggestion that the next time he's in a gunfight he expects to lose. Heavy stuff and I'm really surprised this movie hasn't seem to have gotten any attention among film buffs. It's very well made and a bold statement for its day, a time when Red baiting and the Hollywood Blacklist were still around and it wasn't cool to go on about paranoia and the dark side of American life.
Jerome Wilson
No Name on the Bullet Quotes
There are no approved quotes yet for this movie.