No Orchids for Miss Blandish
(1948)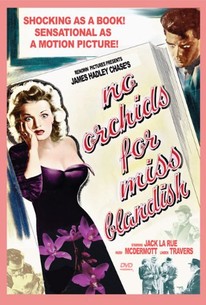 AUDIENCE SCORE
Critic Consensus: No consensus yet.
No Orchids for Miss Blandish Videos
No Orchids for Miss Blandish Photos
Movie Info
James Hadley Chase's 1939 bestseller reached the screen for the first time -- which a lot of critics of the book would have said was one time too many -- in 1948, in somewhat bowdlerized form, under the aegis of Renown Pictures and screenwriter St. John Legh Clowes, making his sole bow as director. Filmed in England but set in New York, No Orchids For Miss Blandish tells of a sheltered heiress (Linden Travers) who is abducted on her wedding night by a trio of cheap hoods, in what starts out as a jewel robbery and turns into a kidnapping/murder when one of them (Richard Nielson) kills the bridegroom. More mayhem ensues as the three kidnappers soon end up dead, and Miss Blandish falls into the hands of the Grisson mob, led by Slim Grisson (Jack LaRue), who are pros at what they do, throwing their weight around the underworld at will and not too afraid of the police, either. Slim Grisson isn't really better than any of those around him, but he's smart enough to restrain his worst impulses, which makes him start to look very good to Miss Blandish, who finds herself strangely attracted to him, as the first real man she's ever seen, and also a way out of the sheltered existence she's known all of her life. He's as amazed as anyone around him -- including his own mother (Lili Molnar), who runs the gang in tandem with him -- that he doesn't want to ransom Miss Blandish, or plan on killing her because she knows too much; or that she'll testify on his behalf, if necessary, that the one killing she did see by him was, in fact, a matter of self-defense. They plan to run off together, but neither Grisson's mother nor the rest of the gang can see parting with a potential million dollar ransom, or leaving a witness alive -- even if it means killing Slim Grisson to get to her. And when a nosy reporter named Fenner (Hugh McDermott) starts putting the police on the trail of the gang, Slim himself isn't above committing a few more murders to bury any witnesses. The movie was so violent and amoral, that it appalled critics and social observers on both sides of the Atlantic, whose agonizing over its content actually helped turn the picture into a bigger hit than it might otherwise have been. This was especially true in America, where the movie enjoyed a five week run in one of New York's bigger movie palaces to sell-out business, though it was edited considerably and re-cut twice for US release (the second time, a couple of years later, as Black Dice). Robert Aldrich filmed the same story as The Grissom Gang (1971), with Kim Darby, Scott Wilson, and Irene Dailey. ~ Bruce Eder, Rovi
Critic Reviews for No Orchids for Miss Blandish
All Critics (2) | Fresh (1) | Rotten (1) | DVD (1)
It's this British movie's status as an ersatz 'American' gangster picture that makes it particularly distinctive; there's a not-quite-rightness about the production that gives it a dream-like, Bronte-via-'Black Mask' atmosphere.

Commercial Appeal (Memphis, TN)
Notorious in its day, this 1948 British adaptation of James Hadley Chase's novel is a noir-tinged crime drama with lurid edges and an American setting that never quite comes off...

Audience Reviews for No Orchids for Miss Blandish
½
Are you going to give or do I have to take? A girl that is about to become rich from her father's fortune is scheduled to be married. A robber pulls up to the couple's car one night and kills the fiancé and kidnaps the rich daughter. The robbers are part of the mob and a fellow member of the mob, Slim, is assigned to watch the kidnapped daughter. The mob doesn't know slim and the girl have a past and they quickly fall in love with each other and plan to escape, marry, and live the rest of their lives on the run. If the mob finds out their plans, it could be the end of both of them. "Orchids for Miss Blandish." "Tell him, no orchids for Miss Blandish." St. John Legh Clowes, director of Grand Prix, delivers No Orchid for Miss Blandish. The storyline for this picture was way better than I anticipated. The character development is very good and the mob plots and subplots are very good. The acting is very good and the cast includes Jack La Rue, Hugh McDermott, Linden Travers, and Walter Gisham. "What is a heal like him doing with a dame like that?" "I know what I'd be doing." I have no idea why I DVR'd this picture back in October off Turner Classic Movies (TCM)...as I was only DVR'ing horror movies at that time; however, the gangster plot may have peaked my interest. I will say this was much better than I anticipated. The acting and characters were very good and I recommend seeing this picture if you're a fan of the classic gangster films. "If he's poison then you're slow death." Grade: A
Kevin Robbins
No Orchids for Miss Blandish Quotes
There are no approved quotes yet for this movie.
Discussion Forum
Discuss No Orchids for Miss Blandish on our Movie forum!