Noam Chomsky: Distorted Morality - America's War on Terror?
(2003)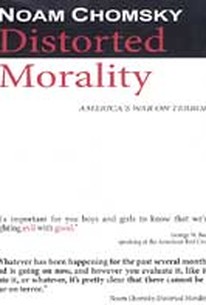 AUDIENCE SCORE
Critic Consensus: No consensus yet.
Movie Info
Rating:
NR
Genre:
On DVD:
Runtime:
Critic Reviews for Noam Chomsky: Distorted Morality - America's War on Terror?
There are no critic reviews yet for Noam Chomsky: Distorted Morality - America's War on Terror?. Keep checking Rotten Tomatoes for updates!
Audience Reviews for Noam Chomsky: Distorted Morality - America's War on Terror?
[I]Distorted Morality: War on Terrorism?[/I] features two lectures by Noam Chomsky given in 2002, after the September 11, 2001 terrorists attacks in New York City and Washington, D.C, but before the March 19, 2003 invasion of Iraq by the United States. Noam Chomsky is a professor in the Department of Linguistics and Philosophy at Massachusetts Institute of Technology (MIT), a position he's held for more than forty years. In the 1950s, Chomsky pioneered linguistics research, formulating what he called "universal grammar" (a theory, in simplistic form, that posited innate, cognitive structures that help to generate complex language rules and systems). For non-academics, Noam Chomsky is better known as a longtime, radical critic and activist. Chomsky began his second career as critic of and activist against U.S. involvement in Vietnam and an activist for civil and political rights in the mid-1960s. The lectures featured in [I]Distorted Morality: War on Terrorism?[/I] explore Chomsky's critique of U.S. foreign policy and, in his words, why a "war on terrorism" is a logical impossibility. Chomsky argues that academic hand wringing about the difficulty of defining "terrorism" is misguided. Chomsky posits two theses: (1) we are all hypocrites (and by "we" he generally means well-informed "political elites"), applying standards and definitions to the actions of others, while refusing to apply those standards and definitions to ourselves; (2) the first thesis is so obvious that it takes real effort to miss its pervasiveness in public life (Chomsky would probably describe this behavior as "cognitive dissonance"). Working from an earlier, official definition of "terrorism" (the 1984 U.S. Army Manual), terrorism is described as the "calculated use of violence or the threat of violence to attain goals that are political, religious, and ideological in nature." That broad definition, however, leaves open the identity of who can or should be classified as a "terrorist" (i.e., an individual, a group, or even a nation-state). Chomsky, however, relies on overused (for readers of his work), well-known examples to illustrate the hypocrisy inherent in U.S. foreign policy, who he claims, not without justification, as a proponent of "state-sponsored, international terrorism:" (1) the Reagan administration's policy toward Central America, specifically its illegal support for the anti-Communist Contras in Nicaragua during the 1980s (as well as support for the oppressive, rightist regimes in El Salvador and Guatemala, regimes that relied on U.S.-funded paramilitary groups to suppress anti-government opposition), and (2) the Reagan administration's support for Israel's policies both the West Bank and the Gaza Strip that have severely limited Palestinian self-determination (policies that have remained static through Republican and Democratic administrations). As Chomsky reminds his audience, the Reagan administration called the Nicaraguan government and the anti-government forces in El Salvador and Guatemala "a depraved threat to civilization, a threatening a revolution without borders, and an extraordinary threat to national security and foreign policy," in essence creating sufficient grounds for declaring "a national emergency." The declaration of a national emergency was renewed annually. In Nicaragua, the rest was a costly counter-revolutionary effort, with more than 50,000 dead. After Nicaragua brought a claim against the United States in the International Court of Justice (ICJ), in an 84-page decision, the ICJ ruled in favor of Nicaragua, and held that the United States should immediately desist from supporting anti-government forces in Nicaragua, as well as pay restitution to the Nicaraguan government. The Reagan administration, of course, rejected the court's jurisdiction and, thus, rejected the court's decision, and continued its support for the Contras. When the U.S. Congress refused to continue to fund the Reagan administration's policies, the administration chose to subvert and circumvent Congress by funding the Contras through illegal methods, including selling arms to Iran, and engaging in illicit deals with South American drug cartels. The United States also rejected United Nations Security Council resolutions on several occasions (the U.S. has formal veto power, meaning its single "no" vote nullifies the resolution). Chomsky then turns his criticism to U.S. policy in the Middle East, specifically its longstanding, controversial (internationally, if not inside the United States itself) support for Israel and its repressive policies toward the Palestinians in the West Bank. At no time does Chomsky excuse Palestinian terrorism against Israel, nor does he argue for moral equivalence between their actions and those of the Israeli government. Chomsky clearly states that terrorism, in whatever form, for whatever goal (noble or otherwise) is categorically wrong, but he just as clearly argues that the United States has not been a fair and honest broker in the Israeli-Palestinian conflict, always opting for military and financial support of Israel, regardless of the circumstances, including the invasion of Southern Lebanon in 1982. Israel's military goal was to ostensibly remove the Palestinian Liberation Organization as a current and future threat to Israel. The invasion and occupation of Lebanon met with partial success, but not without the near destruction of Beirut, long called the "Paris of the Middle East," as well as the deaths of more than 20,000 Lebanese civilians caught in the crossfire. Israel's retreat from Lebanon several years later was reversed in 1993 with a second invasion. Israel remained in Lebanon until 1996. Israel, however, receives more in foreign aid than any other country (approximately $5 billion dollars a year). Most of that economic aid, however, is used and has been used to buy advanced U.S.-manufactured weapons systems, including helicopters, tanks, missiles, and bombs (a special relationship that has continued unsurprisingly through the current administration). Attempts to pass UN Security Council resolutions that dealt with international terrorism have been also blocked by the United States on multiple occasions. The United States and Israel have also been regular dissenters to resolutions made by the UN General Assembly. Chomsky is, however, on shakier ground when he describes the more recent overthrow of the Taliban regime in Afghanistan immediately in the aftermath of 9/11. He criticizes the Bush administration for its steadfast refusal to negotiate with the Taliban regime. Chomsky consistently argues for negotiation over military confrontation. The Taliban called several times for negotiation, at various times asking for Osama bin Laden's involvement the 9/11 attacks, or suggesting the transfer of Osama bin Laden to a neutral, third country. Chomsky is less persuasive than in his previously cited examples (in large part due to the contemporaneous nature of the Taliban invasion). While he makes a sound argument for negotiation, it was still surprising that the Taliban seemed to prefer military confrontation to releasing bin Laden to the United States. Despite major international events in the subsequent two years (i.e., the invasion and occupation of Iraq, which Chomsky didn't foresee at the time his lectures were filmed, seemingly unaware of the neo-conservative movement or its high-ranking proponents within the Bush administration), [I]Distorted Morality: The War on Terrorism?[/I] remains a fascinating, if slight, introduction to Chomsky's incisive critique of U.S. foreign policy. Chomsky's over-reliance on the same set of examples (e.g., Nicaragua in the 1980s, indirect U.S. support for Israel) in both his written work and lectures, however, indicates an obsession or fixation that dilutes his substantive claim of the United States as a "state sponsor of international terrorism," at least by the definition used by Chomsky himself (the USA Patriot Act re-defines "terrorism" far more loosely, with criminal prosecution for opposition groups within the United States more than likely).
Mel Valentin
Noam Chomsky: Distorted Morality - America's War on Terror? Quotes
There are no approved quotes yet for this movie.