The Noose Hangs High
(1948)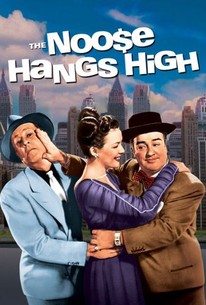 AUDIENCE SCORE
Critic Consensus: No consensus yet.
The Noose Hangs High Photos
Movie Info
For their first independently-produced vehicle, Bud Abbott and Lou Costello chose to appear in a remake of the 1939 Universal programmer For Love or Money. Bud and Lou are cast as Ted and Tommy, two bumbling window washers hired by gangster Mike Craig (Joseph Calleila) to collect a $50,000 gambling debt. The boys manage to pick up the money, only to deliver it to the wrong person, a pretty private secretary named Carol (Cathy Downs). Ordered to retrieve the money within 24 hours "or else," Ted and Tommy trace the cash to Carol, who has mistakenly distributed it amongst the entries in a mailing list. As our heroes desperately concoct methods of escaping Craig's wrath, eccentric gambler Julius Caesar McBride (Leon Errol), the man who "never loses," comes to the rescue. Despite its seeming complexity, the plot exists merely as a peg on which to hang several of Abbott and Costello's best routines, including "Bet you 10 dollars you're not here," "Hole in the Wall," "Packing and unpacking," "Getting Arrested," and, best of all, "Mudder and Fodder." Beyond the seven credited actors, the huge unbilled supporting cast includes such reliable laugh-getters as Benny Rubin, Murray Leonard, Elvia Allman, Herb Vigran, Fred Kelsey, James Flavin, Lyle Latell, Isabel Randolph and Paul Maxey.
Audience Reviews for The Noose Hangs High
This is the first film of Abott and Costello that I have seen, and frankly, I wasn't very impressed. The story was all over the place with various comedy sketches sprinkled in between -- some more clever than others.
Wesley Harrison
Ask Me a Simple One These days, when we need to shoehorn someone's schtick into popular media, we mostly give them a TV show. This means that no plot has to last longer than twenty-two minutes, and most of that time can be filled with gags and one-liners. What's more, we're completely used to the formulaic nature of sitcoms; there are some plots that have been used over and over since, I don't know, the invention of the medium? However, before there were sitcoms, there were movies starring vaudeville comics and so forth. It was one thing with Bob Hope, who could also at least somewhat act. Certainly he could carry a plot from beginning to end. However, it was not unheard of for people who could not, in fact, carry a full plot to get movies anyway. This is a gap later filled by things like Eddie Murphy's [i]Raw[/i] and all those interminable HBO stand-up specials. But there was no place for any of those in the 1940s. Ted Higgins (Bud Abbott) and Tommy Hinchcliffe (Lou Costello) are window washers who, for reasons that don't matter, get mistaken for couriers by Nick Craig (Joseph Calleia), a bookie and probably low-level mobster. They are to pick up fifty thousand dollars and bring it back. For reasons that don't matter, Tommy ends up slipping the money into an envelope and, he thinks, mails it to Craig. Through a mix-up that further doesn't matter, it instead gets sent to Miss Van Buren (Isabel Randolph). She tells her secretary to get rid of it, because she thinks it's just an advertisement. However, the secretary, Carol Blair (Cathy Downs), opens it, sees the money, takes it, and quits. Ted and Tommy find her, but she's already spent pretty much all of it. They need to get the money back, because Craig owes it to J. C. McBride (Leon Errol), and if he doesn't pay McBride, it's all over. They try placing a bet, but their horse loses. And the whole time, some guy calling himself Julius Caesar keeps hanging about. The film is seventy-seven minutes long and feels padded. There's the whole lengthy scene with a wacky dentist (Murray Leonard) that may serve a purpose, but I don't know what it is. Actually, I don't know what any of about the first fifteen minutes or so has to do with anything, and I doubt anyone involved with the film could tell you, either. I mean, obviously, it was there to pad the film. However, given how short films could be in those days, it's not reason enough. I don't mind the prolonged silliness about the man we know to be the man with all the solutions but who Ted, Tommy, and Carol know only as a random loon. That's fine; that, done right, could be a fun story. However, it seems that they didn't trust the story enough to let it go on its own merits. They felt it needed more wackiness. And there are a couple of Abbott-and-Costello-y bits that work, but it almost seems as though they wanted to just do a comedy film of the Eddie Murphy variety and didn't know how. Let us also take a minute to discuss how very dumb Carol is with the money. She gets a random fifty thousand dollars in the mail. She must know that it isn't on purpose, but she just seems to assume that someone was sending a random fifty thousand dollars to Miss Van Buren. This is not a thing that happens. But okay, she spends it. That's fine. That's not all that surprising; I'm sure plenty of people would do the same. But the way she spends it is also foolish. She has had the money for less than a day, and she has something like a thousand dollars left. She rented a two thousand-dollar apartment--in 1948, mind--bought a mink coat, bought a whole new wardrobe and a diamond brooch. And, of course, quit her job. So the question is, what's she going to do next month? I can absolutely see wanting to quit that job. Miss Van Buren seems like a terrible person, and I wouldn't want anything more to do with her. But you know, keep the money as a nest egg, right? In some ways, it's just not enough to be funny. It does take genuine acting, and mostly, they acted like Bud Abbott and Lou Costello. I've no problem with that, but they made a ton of movies together, and in general, they weren't very good. They were funny enough to get by on, I think, but I've never watched one and thought it was worth watching again. I will, if I'm particularly bored and don't have much better to do, and it's also true that I've watched a half-dozen or so of them over the years. I keep coming back, because I find Abbott and Costello funny enough that I have hopes. I hope that, eventually, there will be an Abbott and Costello movie that I want to watch a second time. Especially because Graham likes them so much. It would be nice if we could add one to our regular movie rotation--the movies we're likely to sit and watch together as a couple. The more so because they're movies we could sit and watch together as a family--nothing objectionable but the quality of some of the jokes, you see.
Edith Nelson
The Noose Hangs High Quotes
There are no approved quotes yet for this movie.
Discussion Forum
Discuss The Noose Hangs High on our Movie forum!