Nora Prentiss
(1947)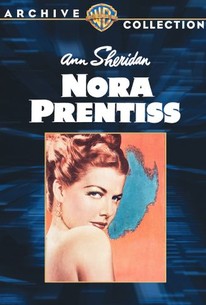 AUDIENCE SCORE
Critic Consensus: No consensus yet.
Movie Info
In this slick melodrama, a sort of film-noir for women, a nightclub singer has an affair with an unhappily married San Francisco doctor. Though the physician desperately wants to leave his wife, he lacks the courage to ask for a divorce. In retaliation, the singer accepts an offer to move East and start up a new club in New York. Lost without the singer, the doctor is without option until his partner suddenly dies. With a burst of inspiration, he fakes his own death and flees to New York. Later, he is horrified to learn that his death has been officially declared a homicide, and so he goes into hiding in the singer's apartment. To cope with his fear and the increasing success of his lover, the physician begins drinking heavily. This only makes him paranoid and more depressed and he begins to suspect his lover is having an affair. Upon confronting the "lover," a fight ensues, the doctor wins, and thinking he killed his rival, he takes off -- only to end up in a horrible traffic accident that leaves his face unrecognizable. Though plastic surgery gives him a new identity, it is at that time that he is arrested and sent back to California to stand trial for his own murder. Rather than burden his family with the shock that he is still alive, the doctor insists that his lover keep mum, and he stoically goes to trial where he is sentenced to Death Row. Beautifully photographed by James Wong Howe in typically expressionistic style, the film focuses on the desperation and entrapment of the characters and expresses a true bleak, fatalistic film-noir sensibility which makes this film unique in the genre.
Rating:
NR
Genre:
, ,
Directed By:
Written By:
In Theaters:
On DVD:
Runtime:
Studio:
Warner Bros.
Critic Reviews for Nora Prentiss
All Critics (2) | Fresh (2) | Rotten (0)
Melodrama com aura noir cuja artificialidade se tornou evidente à medida que o filme envelheceu. De todo modo, Sheridan está linda e Smith cria um personagem trágico e maldito que ainda desperta nosso interesse.


Ozus' World Movie Reviews
Audience Reviews for Nora Prentiss
½
One of the better film noirs I've seen recently. A pretty nightclub singer shows her doctor her long stockinged leg, and to put it succinctly, he proceeds to lose his mind! Interesting, in that Nora ["the woman"] isn't the stereotypical femme fatale, and is quite sympathetic, as is the doctor. If anything, "the villain" in this film from a 2012 viewpoint seems to be the act of trying to adhere to a loveless marriage! This WB movie boasts beautiful sets, especially the gorgeous 40's nightclub scenes. The love story and suspense are quite effective until it succumbs to the inevitable 40's style implausibility, by modern forensic standards. However, we know this is going to happen going into it, right? ***1/2
Chuck Nolan
For pulp melodrama, NORA PRENTISS has one hell of a premise. Never-you-mind that the story would ever fly in real life - considering the art of modern crime forensics...but back in the 1940's - well, just possibly...maybe?!? It's best to view this film in a 1940's perspective to better appreciate the film's denouement - but if you enjoy the occasional pulpy crime melodrama as much as I do, well NORA PRENTISS may just be your cup of tea. Dr. Richard Talbot (Kent Smith) is a successful doctor living in San Francisco who has settled into a comfortable daily routine. Every morning he gets up at the usual time and eats breakfast with his wife, Lucy (Rosemary DeCamp) and two teen-aged kids, Greg and Bonita (Robert Arthur and Wanda Hendrix). He arrives promptly at his downtown office every morning at 9 and goes home every evening at 6:30. His routine is interrupted one evening when a woman, Nora Prentiss (Ann Sheridan) is injured in a traffic accident just outside of his office. Dr. Talbot treats Nora's injuries, which prove to be minor. Nora happens to live in an apartment across the street from Talbot's office and Nora confesses, "I've seen you before...from my apartment window...as a matter of fact, I set my clock by you" - Talbot is surprised to find that Nora is familiar with his daily routine. ...and so begins the beginning of a beautiful friendship. Talbot incorporates Nora (who works as a nightclub singer) into his daily...err, make that NIGHTLY routine. Talbot's wife notices the change in her husband - who comes home later and later in the evenings. This goes on until Nora decides that she has had enough of being "the other woman" - especially when Talbot tells her that he might see her less often: - "I...I may not be able to see you as often as I have...", Talbot tells Nora. - "Oh...wouldn't it be better if you stop seeing me altogether"? - "No...of course not. It's...it's just that... until I can work something out..." - "You mean you'll see me when it's convenient." - "I didn't say that"! - "That's what you meant." - "Nora please...it's difficult for me. Don't you understand"? - "Sure I understand. But this concerns me as much as it does you. You're tired of sneaking around corners...making excuses. Well, so am I..." I like Ann Sheridan...but I just can't picture her ever playing a truly evil character. Not in a Bette Davis type of evil, anyway. Even when Sheridan plays "tough" or "sassy" - she comes off sweet too. I'm not sure I can classify her role as "femme fatale" in NORA PRENTISS. We just feel too much sympathy for her character for that (as exemplified in the above exchange). On the other hand - it is Dr. Talbot who will make the drastic decision. Unable to tell his wife he wants a divorce...a scheme literally falls into his hands when one of his patient suffers heart failure. A scheme that will enable him to leave his wife... and live happily ever after with Nora...or so he thinks. The film contains some nice archival footage of the streets of San Francisco circa 1940's. I recognize a lot of the streets and always get a kick seeing how much the city has changed since then. I had to rub my eyes upon seeing NO TRAFFIC whatsoever on the upper deck of the San Francisco-Oakland Bay Bridge. 8
bernard anselmo
the film synopsis leads one to believe that nora prentiss ruins the life of a respected doctor but as gorgeous as ann sheridan is, she's much too sweet for a femme fatale. this is considered a 'woman's noir' but the story is really that of dr. richard talbot, consumed by guilt and increasingly paranoid. it's hard for me to see why nora prentiss stands by him when he was too much a coward to simply ask his wife for a divorce. of course that would've been a much less dramatic film
Stella Dallas
Super Reviewer
Nora Prentiss Quotes
There are no approved quotes yet for this movie.
Discussion Forum
Discuss Nora Prentiss on our Movie forum!