Norm Macdonald: Me Doing Standup
(2011)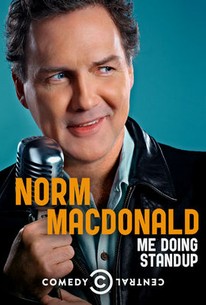 AUDIENCE SCORE
Critic Consensus: No consensus yet.
Critic Reviews for Norm Macdonald: Me Doing Standup
There are no critic reviews yet for Norm Macdonald: Me Doing Standup. Keep checking Rotten Tomatoes for updates!
Audience Reviews for Norm Macdonald: Me Doing Standup
I think it's the first comedy special I've ever watched from beginning to end. There's only one really great sequence (the vanishing Janis to serial killer stuff), but overall it's still more watchable than most standup thanks to Macdonald's great persona.
Alex Hiatt
Norm is simply hilarious. Norm's style is soo different from most other comedians, so i'd say whether you're a standup comedy fan or not, you;ve really got to see this. I don't know how to describe it , but there's something very unique and special abotu how Norm does comedy.
Jamie Brown
After Norm left SNL I stopped watching except for the occasional episode here and there. That's how funy this guy was: the weekend update was my incentive to watch every Saturday. During his SNL days, Norms delivery of the news was impeccable and more-than any other host before or since. It took TWO decent comedians (Tina Fay and Jimmy Fallon) to even approach his level of "news" delivery hilarity (and they, together, are a far second). Since the late 1990's and mid 2000's I enjoyed his very rare and far too few offerings. This December though I found this gem on Netflix and was intrigued. How has he held up over the years? Could he still possibly be as funny as those hilariously dry SNL news updates? Good news: he's still got it and then some. He seemed to be a little out of it during the show, but nailed it, and I was laughing just as hard during the second viewing. His material was rich. His timing and delivery were truly that of a master. I wish he would put out a special every year or two, think Louis C.K.'s recent special (and the bank he made from releasing it himself). Norms special was hands down better. His timing is impeccable. His ability to deliver the goods is second to none, and I've seen my fair share of comedy specials. I hope this special is just the beginning of a main-stream media revival for this comedic talent.
joedonbaker _
Norm Macdonald: Me Doing Standup Quotes
There are no approved quotes yet for this movie.
Discussion Forum
Discuss Norm Macdonald: Me Doing Standup on our Movie forum!