Northern Pursuit
(1943)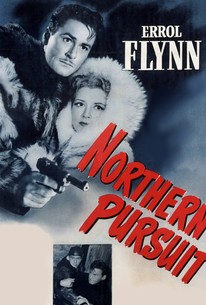 AUDIENCE SCORE
Critic Consensus: No consensus yet.
Movie Info
Set during WW II, this north-of-the-border adventure tells the tale of a loyal Canadian Mountie who mysteriously decides to reclaim his German heritage and help Nazi saboteurs make it through the wilderness to their secret operations base in Hudson Bay. Fortunately, everything is not as it seems.
Rating:
NR
Genre:
, , , , ,
Directed By:
Written By:
In Theaters:
On DVD:
Runtime:
Studio:
Warner Bros.
Critic Reviews for Northern Pursuit
All Critics (2) | Fresh (2) | Rotten (0)
Spy thriller in Northern Canada, with some good Raoul Walsh touches.
Classic Film and Television

Ozus' World Movie Reviews
Audience Reviews for Northern Pursuit
½
A cool (no pun intended) spy thriller that pits Errol Flynn against the Nazis in the unlikeliest of places, northern Canada.
Vincent Hannam
½
NOT a western genre film per RT. Interesting plot with a propaganda slant. War II suspense story set in the snowy, very snowbound Canada. Wear a coat. [img]http://ts2.mm.bing.net/images/thumbnail.aspx?q=4881759121375873&id=5837c7e43d54bc8485599379889ac323&url=http%3a%2f%2fwww.bogotafilm.com%2fimages%2fcache%2fthumb_image_424046.jpg[/img] While this appears to be a love-danger story, its not a romance story except at the very end Oddly, William Falkner had an uncredited role in writing the film. THIS IS NOT a WESTERN !!!!! RT goofs AGAIN! Northern Pursuit is a 1943 World War II film starring Errol Flynn as a member of the Royal Canadian Mounted Police who tries to uncover a Nazi plot against the Allied war effort. The movie was set in Canada and directed by Raoul Walsh. German aviator is landed by submarine in the wilds of snowy Canada during WWII. He is rescued after an avalanche by the Royal Mounted Police. He was never actually pursued at all. Royal Mountie Errol Flynn, of German ancestory himself, tries to gain the confidence of the German colonel aviator. The German Colonel kills anyone he pleases including native Indians and a loyal contact he makes in Canada. The ski scenes and scenery are both pretty good, except for the close-up shots. In fact, all the close-up shots are done on a set and look pretty fake. Long shots are great. No location photography took place in Canada. [img]http://ts4.mm.bing.net/images/thumbnail.aspx?q=4825357604618411&id=dec019481576aa37803d1035641a0cf9&url=http%3a%2f%2fwww.doctormacro.com%2fImages%2fFlynn%2c%2520Errol%2fAnnex%2fNRFPT%2fAnnex%2520-%2520Flynn%2c%2520Errol%2520(Northern%2520Pursuit)_NRFPT_03.jpg[/img] Flynn shown here quitting the Royal Police as a cover to penetrate the German plot in Canada Flynn is successful in gaining access to the German camp where the colonel runs the show. But he is revealed as a loyal Canadian and has to shoot his way out of the camp to escape. The ending is about as silly as it gets, but I guess they had to finish the film. Short of the last 10 minutes, its a film worth watching for Flynn fans or dog sled types. [img]http://ts2.mm.bing.net/images/thumbnail.aspx?q=4825357604618413&id=7616b5b08b3d4e4fa6a72bba5994d265&url=http%3a%2f%2fwww.doctormacro.com%2fImages%2fFlynn%2c%2520Errol%2fAnnex%2fAnnex%2520-%2520Flynn%2c%2520Errol%2520(Northern%2520Pursuit)_02.jpg[/img] NOTES: 1 Hearing Flynn speak Indian to the native tribe is laughable, but its not supposed to be. 2 The ruthless, colonel bomber pilot is a veteran actor who in reality fled from Austria as a felon and went to California to perform on stage. 3 While titled Northern Pursuit, there is no real pursuit of anyone. The German colonel is rescued after an avalance and is then discovered to be a German aviator. Flynn gains the confidence of the German invader and just tags along for the ride to destroy the plans of the Germans. [img]http://ts1.mm.bing.net/images/thumbnail.aspx?q=4997650218419144&id=45fe241d2720b7de281241de4a415236&url=http%3a%2f%2f1.bp.blogspot.com%2f_IpFwFTEJH9A%2fTHkPTJZhbcI%2fAAAAAAAAG-g%2fXGyT4uzzp9w%2fs1600%2faaaaf20.jpg[/img] Director Walsh who was close to Flynn as a friend 4 During the production, Flynn took ill in May 1943, collapsing on the set and being hospitalized for a week. The studio released information indicating he had a "upper respiratory ailment," but he was battling tuberculosis. Reception: Although similar to other Flynn "swashbucklers", the public and critical reaction was mixed. Bosley Crowther of The New York Times considered it "old business" for the star, and the production "came huffing and puffing" to the Strand Theatre in New York for its premiere. Cast Errol Flynn as RCMP Corporal Steve Wagner Julie Bishop as Laura McBain Helmut Dantine as Colonel Hugo von Keller John Ridgely as Jim Austin Gene Lockhart as Ernst Willis Tom Tully as Inspector Barnett Bernard Nedell as Tom Dagor Monte Blue as Jean Alec Craig as Angus McBain Rose Higgins as Rose Dagor Directed by Raoul Walsh Produced by Jack Chertok Written by Leslie T. White (story) Frank Gruber Alvah Bessie William Faulkner (uncredited) Distributed by Warner Bros. Release date(s) November 13, 1943 (1943-11-13) Running time 93 minutes Country United States [img]http://ts1.mm.bing.net/images/thumbnail.aspx?q=4556149070627720&id=ca1601a94e22969df87ef4b1661b408e&url=http%3a%2f%2fannyas.com%2fscreenshots%2fupdates%2fwp-content%2fuploads%2f2010%2f08%2fnorthern-pursuit-1943-movie-title-small.jpg[/img]
monsieur rick
Northern Pursuit Quotes
| | |
| --- | --- |
| Steve Wagner: | Whatever he is, he's no northwoodsman. |
| Jim Austen: | A German officer in the north country. I don't get it. |
| Col. Hugo von Keller: | I give you my word as a German officer. |
| Jim Austen: | I think we captured a German flyer. [uh, no, he was sent by submarine] |
| Laura McBain: | You're not going to marry him, I am. |
| Laura McBain: | He captured 3 German aviators. [no, just one and he was not flying to Canada] |
| Steve Wagner: | Fast? We've had the longest engagement in Manitoba! |
Discussion Forum
Discuss Northern Pursuit on our Movie forum!