Northwest Frontier
(1959)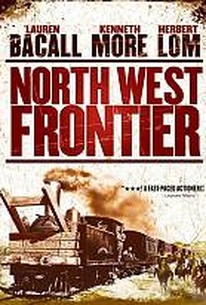 AUDIENCE SCORE
Critic Consensus: No consensus yet.
Movie Info
Northwest Frontier was the original British title for Flame Over India. When the Moslems attack a British fortress in colonial India, it is imperative that the local Maharaja's son be taken to safety. The man for the job is commander Kenneth More, who uses a rusty old train for that purpose. Among the other fugitives is the boy's British governess Lauren Bacall and the untrustworthy Herbert Lom. A cat-and-mouse session between good and bad guys segues into a heart-pounding chase through the frontier. Welcome comedy relief is in the hands of I.S. Johar as a grizzled old engineer. It looks like a western and sounds like a western, and the original title Northwest Frontier completes the illusion that we're watching Cowboys and Indians rather than Indians and Moslems. ~ Hal Erickson, Rovi
Critic Reviews for Northwest Frontier
Audience Reviews for Northwest Frontier
½
In "Northwest Frontier," it is 1905 and a rebellion is starting in northern India. In the nick of time, Captain Scott(Kenneth More) spirits six-year old Prince Kishan(Govind Raja Ross), who is seen as the hope of his people, away towards Delhi with the help of his governess Mrs. Catherine Wyatt(Lauren Bacall). They arrive in Haserabad just after the last train has left(I hate it when that happens). Getting out proves harder than getting in as a state of siege sets in. So, Scott orders Gupta(I.S. Johar) to ready an archaic train engine to try to break it. "Northwest Frontier" is a rousing and suspenseful adventure film that starts in media res and only lets up for the occasional breath of air. Even with a familiar plot of disparate characters traveling together through dangerous territory, there is some intelligent conversation, even if the overall tone is not as enlightened as I would like. And somehow I just cannot buy Lauren Bacall trying to be demure.
Northwest Frontier Quotes
There are no approved quotes yet for this movie.