Northwest Frontier
(1959)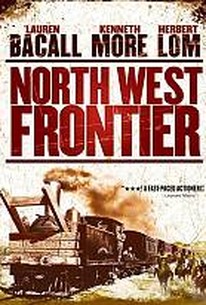 AUDIENCE SCORE
Critic Consensus: No consensus yet.
Movie Info
Northwest Frontier was the original British title for Flame Over India. When the Moslems attack a British fortress in colonial India, it is imperative that the local Maharaja's son be taken to safety. The man for the job is commander Kenneth More, who uses a rusty old train for that purpose. Among the other fugitives is the boy's British governess Lauren Bacall and the untrustworthy Herbert Lom. A cat-and-mouse session between good and bad guys segues into a heart-pounding chase through the frontier. Welcome comedy relief is in the hands of I.S. Johar as a grizzled old engineer. It looks like a western and sounds like a western, and the original title Northwest Frontier completes the illusion that we're watching Cowboys and Indians rather than Indians and Moslems. ~ Hal Erickson, Rovi
Rating:
NR
Genre:
Directed By:
Written By:
On DVD:
Runtime:
Audience Reviews for Northwest Frontier
½
In "Northwest Frontier," it is 1905 and a rebellion is starting in northern India. In the nick of time, Captain Scott(Kenneth More) spirits six-year old Prince Kishan(Govind Raja Ross), who is seen as the hope of his people, away towards Delhi with the help of his governess Mrs. Catherine Wyatt(Lauren Bacall). They arrive in Haserabad just after the last train has left(I hate it when that happens). Getting out proves harder than getting in as a state of siege sets in. So, Scott orders Gupta(I.S. Johar) to ready an archaic train engine to try to break it. "Northwest Frontier" is a rousing and suspenseful adventure film that starts in media res and only lets up for the occasional breath of air. Even with a familiar plot of disparate characters traveling together through dangerous territory, there is some intelligent conversation, even if the overall tone is not as enlightened as I would like. And somehow I just cannot buy Lauren Bacall trying to be demure.
Flame Over India (aka "Northwest Frontier") Starring: Kenneth More, Lauren Bacall, Herbert Lom, and I.S. Johar Director: J. Lee Thompson As a tribal uprising engulfs a province in British-held India, Captain Scott (More) is charged with getting a Hindu prince and his American nanny, Catherine (Bacall) to safety. Reinforcing a dilapitated old locomotive and its railcars as best he can, Scott, a small detatchment of troops, and a handful of civilians, break through the enemy's lines and start chugging their way to friendly territory. However, not only are they now a moving target for the rebels, but it soon becomes apparent that there's a traitor on board the train who is ready to kill the prince if the opportunity presents itself. "Flame Over India' is a classic action flick with fantastic performances by all leading actors and supporting cast. The film is further remarkable in the way it handles issues like British imperialism and religious fanaticism without launching into extended screeds (as is the habit in modern films). There are also numerous tense moments--I found the scene where the crew have to repair damaged tracks while under the threat of the tribes-men finding them to be one of the best staged ones--and the battle scenes are expertly executed. Lauren Bacall is spectacular as ever, truly shining in the role as a feisty (yet never ugly) American... and this is another role for her that proves that there really aren't any current actresses that can even come close to the skill and talent of the leading laides of Bacall's generation. More also deserves to be singled out for his wonderful portrayal of the innovative, never-say-die, ever-professional British military man who will lead the train to safety over the enemies' dead bodys. More and Bacall also made a great on-screen, with believable sparks flying every time their characters lock horns. If you like well-acted historical action dramas (or even war movies, because this fits into that category too), "Flame Over India" is a great way to spend a coule of hours. -- Unfortunately, "Flame Over India" is of those great movies that no one has seen fit to give a full-fledged DVD treatment to. The only DVD edition I'm aware of is the one that Catcom Home Video did a few years back, where they paired it "Zulu" ([URL=http://www.rottentomatoes.com/vine/journal_view.php?journalid=245672&entryid=285769&view=public]review here[/URL]) on a single disc, and even it may be out of print. I looked it its [URL=http://www.amazon.com/exec/obidos/redirect?link_code=as2&path=ASIN/B00067ZNA4&tag=stevemillesdo-20&camp=1789&creative=9325]listing at Amazon.com[/URL], and the barren nature of it, coupled witn the six-week shipping window, makes me think that the "Catcom Double Feature: Zulu"/Flame Over India" is actually out of print. That's a shame, because $6 for two great movies is a fabulous price!
Steve Miller
Northwest Frontier Quotes
There are no approved quotes yet for this movie.
Discussion Forum
Discuss Northwest Frontier on our Movie forum!