Northwest Passage
(1940)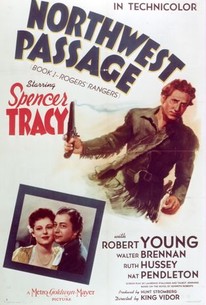 Movie Info
This film is set in 1759, when Major Robert Rogers set out from the Colonies to seek out a northwest passage to the Pacific Ocean. Together with dozens of loyal followers, Rogers sets out and ends up battling Indians. Even though his quest failed, Rogers was lauded as a hero.
Critic Reviews for Northwest Passage
All Critics (6) | Fresh (6) | Rotten (0)

Ozus' World Movie Reviews
Surprisingly gritty, realistic MGM version of early pioneers led by Spencer Tracy's Rogers.

Audience Reviews for Northwest Passage
excellent historical drama of colonial America with Spencer Tracy, Robert Young and Walter Brennan showing their best characterizations
Reggie White
It's actually kinda graphic and might be seen as offensive to a few. The movie plays more like something out of the 50s or early 60s. It is in color with better than average cinematography and kinda preachy and a little campy like films of those times are. It is pretty gritty compared to most, though, and tells of an interesting period in history that is not covered in pop culture much (though liberties are of course taken - the combat is poor and the scale of the indian battle unrealistically large, and the costuming is also bad). All in all, the movie keeps your attention and is basically enjoyable, though it is not exactly intellectual. Sort of like a popcorn movie in today's terms.
Jason Dennis
Spencer Tracy is Bigger Than Life in this Role of Major Robert Rogers, I'd forgotten what a Powerful Actor he was till I saw this again the other day, this may be my favorite role for him, of many I've enjoyed.It's possible that the Character he was intrusted with playing ,was just "Such A Character" in the style of Daniel Boone or others with such Drive & Pioneer Adventure Spirit, but I don't think anyone could have embodied Major Rogers better.He was Part Indian Hunter,Tracker/Fighter part Explorer who lead men through unfathomable hardships & Indian Attacks.Robert Young was Amazing too as Langdon Towne , a privileged Harvard Scholar & Artist who dabbles in Map Making who gets tricked into intoxication by Rogers & end's up, along with his friend Hunk(Walter Brennan), on the unexpected adventure of a lifetime.A wonderful Story, Historically Based, & never boring.
Marilee Aschwanden
Northwest Passage Quotes
There are no approved quotes yet for this movie.
Discussion Forum
Discuss Northwest Passage on our Movie forum!