Not My Kid
(1985)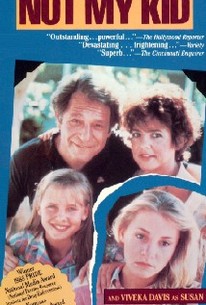 AUDIENCE SCORE
Critic Consensus: No consensus yet.
Movie Info
The endurance of an upper-middle-class family is put to the test in this well-made television drama about drug abuse. Based on the book of the same name by Beth Polson, Viveka Davis (Shoot The Moon) stars as Susan Bowers, the teenage daughter of a successful surgeon (George Segal) and homemaker (Stockard Channing). When innocent-looking Susan's secret life as a druggie comes to light, her parents try anything and everything to get her clean. Unable to make any headway, they turn to a strict drug-treatment center, where streetwise counselors deal with tough kids on their own terms. The Bowers soon learn that their daughter's rehabilitation will not only be a long haul but also an exercise in family dynamic exploration. Young Davis is compelling as the rebellious daughter, and Channing and Segal are wholly believable as the bewildered parents.
Rating:
NR
Genre:
Directed By:
Written By:
Runtime:
Studio:
Beth Poison Productions
Critic Reviews for Not My Kid
There are no critic reviews yet for Not My Kid. Keep checking Rotten Tomatoes for updates!
Audience Reviews for Not My Kid
½
Thank you to the writers of NOT MY KID.... for endless laughter over a joint, for quotes in my high school yearbook, for never letting me down when I am having a bad day to watch scenes on YOUTUBE, and for the 90 + minutes of Catholic school when I had the pleasure of watching your movie. To my dismay, no other comments have been written about "Not My Kid". This seems crazy to me because I am sure I am not the only one out there who has seen this movie in high school? " Not My Kid" is the "Reefer Maddness" of the 1980's. To do justice to Rotten Tomatoes, the actors were horrible, the script was filled with anti-drug propoganda, and the film was a total mess. My favorite scene went something like this ..... " Now why are you here Susan ... Well I did Pot and Alcohol.... what else... okay well I did PCP, Uppers, Downers, Cocaine, Heroin, but I never shot up ( and then it goes to a girl who looks at the lead character like she is a total wimp) ... okay I shot up once..... WHAT THE F ? In all honesty, the only part of this movie I remember was the title. I had so many good times in my youth referring to this movie, laughing at this movie, bringing the movie up in class to make fun of the movie, and now a few years later, drunken conversations with old friends about this movie. NOT MY KID--- Thank you for being a part of my life ; you did me no good, but I sure get a good laugh when i think of you!
ANNE BERRY
Not My Kid Quotes
There are no approved quotes yet for this movie.