Nothing Bad Can Happen
(2014)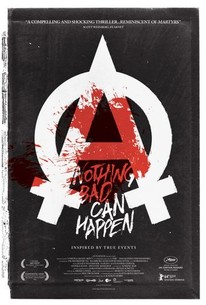 Nothing Bad Can Happen Videos
Nothing Bad Can Happen Photos
Movie Info
Inspired by horrifying true events, Nothing Bad Can Happen follows Tore a young lost soul involved with an underground Christian punk movement who falls in with a dysfunctional family who test his seemingly unwavering faith. After a chance encounter helping stranded driver Benno, where Tore manages to start his car with an apparent miracle, he is invited back to Benno's home and becomes friendly with him, his wife and two children. Before long, Tore moves into a tent in the garden and gradually becomes part of the family. However, Benno can't resist playing a cruel game designed to challenge Tore's beliefs. As his trials become more and more extreme, Tore finds his capacity for love and resilience pushed to its limits and beyond. (c) Drafthouse Films
Rating:
NR
Genre:
,
Directed By:
Written By:
In Theaters:
On DVD:
Runtime:
Studio:
Critic Reviews for Nothing Bad Can Happen
Audience Reviews for Nothing Bad Can Happen
This was for sure one of the hardest movies to watch, thanks to a very thought provocative script, and excellent performances. Not only does it shows you how evil people can get to be, but also in contrast how faith cannot be destroyed. In a way, even though the movie might show some of the cruelest and most terrible things, it gives in a very raw and heartbreaking way, glimpses of hope and faith in God. ~August 15, 2015~
Hugo Guerrero
( NOTE: Though some have compared this to MARTYRS, have no fear, this not as explicit nor is it torture porn.) It's essentially The Passion of Tore, a naive teenager who suffers frequent seizures, which he believes are moments from God. One such episode captures the eye of Benno while at a christian rock concert, as part of a group called the Jesus Freaks. Benno quickly takes Tore under his wing after the Jesus Freaks move on with their tour. Initially civil, Benno begins to show true evil as he begins to subject Tore to savage abuse, rape at the hands of others, and other savage torture. But Tore, strong in his faith with his God, refuses to fight back and continues to turn his cheek, even though there appears to be no God watching over him. This is naturally a tough film to endure and an even harder one to swallow. It's at once infuriating and fascinating. Fascinating because first-time director Gebbe is a striking talent over the proceedings. It is certainly a technical masterpiece from the ending, camera work, and haunting score. She also never falls over into exploitation, and while the abuse, sexual or otherwise, is hard to view, she doesn't linger or seem to get some kind of sick joy out of it. Nothing Bad Can Happen may be a tad vague in what it is trying to accomplish, but it's certainly worth watching and you'll certainly not forget it. Sweet Tore's face will stick with you. Bad can certainly happen. (Not Rated- contains strong violent content including sexual abuse and torture, disturbing images, and language.)
Jacob Zembower
½
NOTHING BAD CAN HAPPEN (aka TORE TANZT) could have slipped into the annals of torture porn but first time director Katrin Gebbe has such a sure hand and grasp of her subject that the film never crosses the line into degenerate entertainment (not that I'm against that). But it's refreshing to see a film that has so much on its mind and plays with our expectations while depicting a world in which beauty, truth and innocence are not only resented but demeaned and destroyed. This is a tough film which one could see as a statement on the masochism behind religious zealotry but is ultimately about human pettiness and capacity for destruction. The film seriously calls to mind the work of Lars von Trier and Gebbe deserves positive comparisons to von Trier but NOTHING has a genuineness that makes if feel poignant rather than an intellectual exercise. NOTHING BAD CAN HAPPEN is not an easy film but well worth the pain.
Michael Lupetin
Nothing Bad Can Happen Quotes
There are no approved quotes yet for this movie.