Nothing Left to Fear
(2013)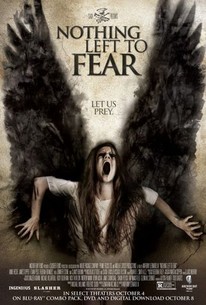 Nothing Left to Fear Videos
Nothing Left to Fear Photos
Movie Info
NOTHING LEFT TO FEAR was inspired by the legend of Stull, Kansas. Wendy (Anne Heche), her husband Dan (James Tupper of "Revenge") and their kids have just moved to the small town of Stull, Kansas, where Dan is the new pastor. But in this sleepy community of friendly neighbors, a horrific series of occurrences awaits them: Their teenage daughter (Rebekah Brandes of Bellflower) is being tormented by grisly visions. Her younger sister (Jennifer Stone of "Wizards Of Waverly Place") has been marked for a depraved ritual. And deep within the heartland darkness, one of The Seven Gates Of Hell demands the blood of the innocent to unleash the creatures of the damned. Ethan Peck ("10 Things I Hate About You") and Clancy Brown (The Shawshank Redemption) co-star in this demonic shocker featuring original music by producer SLASH and inspired by the real-life paranormal legacy of Stull. NOTHING LEFT TO FEAR was written by Jonathon W.C. Mills and directed by Anthony Leonardi III. (c) Official Facebook
Critic Reviews for Nothing Left to Fear
Audience Reviews for Nothing Left to Fear
Very disappointing. This film is supposed to be a horror. Now no doubt that this film had it's scary moments but I don't think people would find it scary or enjoy it. It's just a prime example of a terrible horror film. It's even worse than the Amityville Horror and that was dreadful. And like the Amityville Horror the acting sucks a lot. This film didn't work for me at all. The original was better
Cam Etherington
½
that was crazy, crazy, crazy. I don't know if I'll ever see that movie ever again. Stupidest just a stupid it. Movie made me cry like crazy can't believe how that movie is. You believe what they did to there daughter ? It is so wrong to make a movie like that, can't believe that a person can do something like that to a christian family AND it's a true story. GOD BLESS THOSE FAMILY.
cleo fredericks
Based on the urban legends that claim the small town of Stull, Kansas is a gateway to Hell, Nothing Left to Fear takes a promising premise and some decently creepy imagery and squanders it in a film that is nothing but tedious and predictable.
Al Miller
Nothing Left to Fear Quotes
There are no approved quotes yet for this movie.
Discussion Forum
Discuss Nothing Left to Fear on our Movie forum!