Notre Dame de Paris (The Hunchback of Notre Dame)
(1956)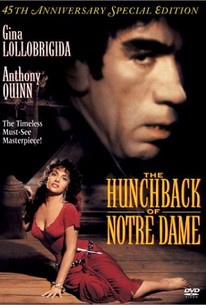 AUDIENCE SCORE
Critic Consensus: No consensus yet.
Movie Info
Better known as The Hunchback of Notre Dame, this opulent French production is the second talkie version of Victor Hugo's famous novel. Buried under mounds of latex, Anthony Quinn does his best as the deformed bellringer Quasimodo, though he comes off more as a punchdrunk ex-pug than a literal interpretation of Hugo's tragic protagonist. Somewhat more effective within the film's framework is Gina Lollobrigida as gypsy dancing girl Esmerelda, whose friendship with Quasimodo motivates the story. As in previous adaptations of the Hugo novel, the villain Frolio (Alain Cluny), originally a priest, is given a less-controversial station in life: in this case, he is an alchemist rather than a man of the cloth. Otherwise, Notre Dame de Paris is one of the more faithful renditions of the original novel, even unto retaining Hugo's unhappy ending. When first released in the U.S. by Allied Artists, the film was titled Hunchback of Paris, to avoid a copyright conflict with RKO's 1939 adaptation of Hunchback of Notre Dame.
Critic Reviews for Notre Dame de Paris (The Hunchback of Notre Dame)
There are no critic reviews yet for Notre Dame de Paris (The Hunchback of Notre Dame). Keep checking Rotten Tomatoes for updates!
Audience Reviews for Notre Dame de Paris (The Hunchback of Notre Dame)
The Hunchback of Notre Dame is a very hard film to make. Mostly due to the darkness and despair of the original work. If you've only grown up with the Disney version, prepare to be shocked. I truly liked this effort, as it got a lot of the complexities of each character down. Frollo is a man of religion but also science. His faith and logical mind battling it out as he experiences lust. Esmerelda is a victim of her own beauty, but also plays a hand in her own downfall. She doesn't understand her power over men which leads to her angering of the males. Quasimodo is portrayed as not so much an outcast here. He is known by all, but is awkward and unaware of his strength. This is a film where everyone is guilty for their actions, which also makes them all sympathetic. The design of the film is often too much. WIth so many colors and such production put in it comes across as an over the top school production. Less can be more, but with the final heart wrenching scene, you'll probably be left as an emotional wreck.
Luke Baldock
Super Reviewer
Notre Dame de Paris (The Hunchback of Notre Dame) Quotes
There are no approved quotes yet for this movie.