Notre Musique
(2004)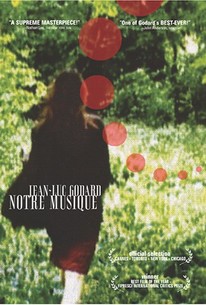 Movie Info
Legendary French filmmaker Jean-Luc Godard once again poses a number of provocative questions about art, politics, and the nexus point between them in this drama in three acts, "Hell," "Purgatory," and "Paradise." After a collage-style meditation on the nature of war and conflict in society, Godard introduces his central set piece, in which a group of authors, artists, and noted thinkers gather for a symposium taking place in the battle-scarred city of Sarajevo. Olga Brodsky (Nade Dieu), a journalist who is French and Jewish by birth and Israeli by choice, has come to discuss the conflict between her adopted nation and Palestine with the many notables in attendance. As Olga discusses issues of conflict, identity, and culture, one of the participants, Jean-Luc Godard, posits the notion that it's the essential differences of all the peoples of the world, rather than their similarities, which are at the root of our world. Notre Musique was screened at the 2004 Cannes Film Festival.
Critic Reviews for Notre Musique
Audience Reviews for Notre Musique
Godard's semi documentary has many interesting elements but it's inability to come up with a cohesive whole ultimately leaves the viewer wanting.
John Ballantine
Super Reviewer
Godards, Notre Musique explores the Israel and Palestine conflict using Dante's Divine comedy to do so. Like Divine Comedy we go through three stages (Hell,Purgatory, and Heaven). In Hell Godard shows us five minutes worth of violence, mainly decapitation. In that opening scene there was no more then fifteen words of dialogue. The Purgatory chapter on the other hand was filled with dialogue. Don't come in here expecting anything entertaining, it's strictly art house, and offers nothing to keep you watching. But Godard wanted to give a message using late medieval/ early renaissance literature
Daniel Dolgin
Super Reviewer
unfortunately this film is another example of godards style during this late part of his career over the past 30 years where he is sacrificing coherent story for stylistic elements, despite the fact that early in his career he was able to do both well. having said that, this is a much better example of this sort of filmmaking than godards 80's films. rather than a strait forward story this film plays out more like cultural and philosophical snap shots, and the flow of the film was helped out quite a bit by the influence of dante on the three act structure. i still miss godards dialogue and story telling mastery of the 1960's, but this is a great film for thinking through the world and nature of humanity.
Notre Musique Quotes
There are no approved quotes yet for this movie.