La Notte
(1961)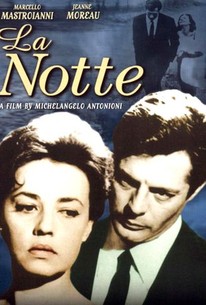 Movie Info
La Notte is another of Michelangelo Antonioni's cinematic interrupted journeys. Just as no one solved the central mystery in Antonioni's L'Avventura, neither does anyone truly enjoy the literary party that is La Notte's centerpiece. The party is being thrown to celebrate the publication of author Marcello Mastrioanni's new novel. But before he even reaches the door of the house, Mastrioanni's evening is ruined when his wife Jeanne Moreau announces suddenly she is disgusted with him--this reaction evidently triggered by an earlier visit to a dying friend. Moreau skips out on the party to wander the streets, searching for...for what? Meanwhile, Mastrioanni tries to inaugurate an empty affair with Monica Vitti, the daughter of a wealthy industrialist. The very elements that drive Mastrioanni and Moreau apart at the beginning of the film reunite them at the end. Maybe. L'Avventura and La Notte were the first two chapters in Antonioni's "barreness and alienation" trilogy; the third, L'Eclisse, was released two years later. ~ Hal Erickson, Rovi
Critic Reviews for La Notte
Audience Reviews for La Notte
½
Antonioni makes all the right choices here and with a remarkable sophistication, using many silent passages to slowly pull us into the characters' ennui while telling an absorbing story about how people are unable to communicate or understand one another.
Carlos Magalhães
Super Reviewer
Mastroianni plays an author who is having problems with his wife, but they have to go to this party, will they solve their differences tonight or will they break up? This is a very interesting movie, it has a familiar theme, but the style is very unique and this movie is very intense, I liked it.
½
I have a privilege. Usually, the objection against Michelangelo Antonioni's work is that it's boring, or too slow, or just plain not entertaining. This criteria is what I cannnot identify with. I find Antonioni fascinating. Two or three hous can pass without my mind wandering away. In fact, I tend to get the urge to see each film twice (Blow-Up is the only one of his works that I have not loved). La Notte, like L'Eclisse, is contemplative and metaphorical. It is about a stable couple falling victim of habit, therefore becoming bored with each other. However, it is a much more optimistic film than Eclisse. Giovanni and Lidia are a married couple. He is a decently well-known writer and she is also some kind of intellectual. I was under the impression that they might have found each other stimulating and understanding in the past, but that they've presently fallen in a rut. The sickness and possible death of a close friend triggers a re-evaluation of the things that keep them together, of where they are going, and what they need. They are bored, and out of touch with each other and their desires. They're bound by a false sense of responsibility. Their relationship is a farse, because they're simply too bored and too lazy to revitalize it, but continue to cling to it, sending each other subtle hints of their deception. So the first half of the film transcurs, in quiet alienation. The second half of La Notte takes place, all in all, in a party at a friend's villa. It is an elegant, decadent party, full of people with potential and ideas, but who are too comfortable in their space to step out and do something actually relevant. It's a party of outspoken intellectuals and their spouses having conversations about money and principles; music, dancing, thinly veiled libertinage. It's a fascinating, thorough exploration of a contained environment, the rawness of which seeps through gestures and indiscretions. During this evening Giovanni and Lidia progressively drift apart, looking for temporary diversions. This search yields interesting, but ultimately pointless results. For example, Giovanni encounters Valentina, a beautiful and also bored young girl. He considers her. He flirts with the idea of her as a novelty more than with her, really. "You need a girl to start over", she says. Lidia has a similar but equally simplistic escapade. The night goes on. Antonioni's rhythm is gorgeous, hypnotic, smooth. Every scene in La Notte has a cadence and a flow that is entirely the director's. The episodes seem natural and yet otherworldly, suspended in time and terribly important. The irony at the end is that nothing really mattered. Perhaps that's the lesson. Needless to say, the cinematography and the composition are fantastic. It's a pleasure to just look at them. I loved how two people were often onscreen and yet no one was onscreen really, because they weren't looking up or we can only see their hands and legs. The alienation theme permeates the entire film. Jeanne Moreau gives Lidia a comforting humanity. Her character is, by itself, so incomprehensible for the most part, so difficult to decipher, and yet she makes it undeniably realistic. Mastroianni plays, as he often did, an anti-hero, an insecure and self-obsessed man -only that, in La Notte, he figures out a way to redeem himself before the film ends. The entire film is worth the torrid ending that, quite honestly, burns like fire after almost two hours of quiet and cool. Why is Antonioni still relevant? I think I might have figured the anwer to that question for me. Just as there is hardly a moment of silence in our daily life, there is hardly silence in cinema anymore. Precisely because we're accustomed to dynamism and noise, silence and slowness doesn't sell. However, introspection is necessary, and it's better in silence, and Antonioni builds an appropriate mood for it. Perhaps world cinema needs more silence more often.
La Notte Quotes
There are no approved quotes yet for this movie.