Novia Que Te Vea (Like a Bride)
(1997)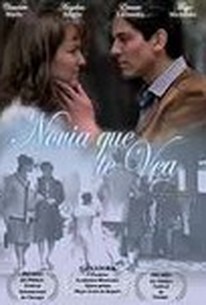 AUDIENCE SCORE
Critic Consensus: No consensus yet.
Movie Info
It may come as quite a surprise to people living elsewhere that Mexico (and Mexico City in particular) has a small but thriving Jewish community. In this story, set in the 1960s, the daughter of Ladino-speaking immigrants from Turkey is attempting to cope with their very conservative attitudes towards young women, and her own desires for her life. They believe that the only career for a girl is marriage, whereas she wants to be an artist, and doesn't care about being a bride. A compromise is briefly achieved when she announces her engagement to a Jewish boy who is a doctor, but the conflict resumes when she calls it off. Meanwhile, she has a friend who is the daughter of Eastern European Jews: her life is much freer, but she, too, is able to shock her parents. In her case, the shock is that she has become romantically involved with a gentile boy who is active in liberal political circles. ~ Clarke Fountain, Rovi
Rating:
NR
Genre:
,
Directed By:
In Theaters:
On DVD:
Runtime:
Critic Reviews for Novia Que Te Vea (Like a Bride)
There are no critic reviews yet for Novia Que Te Vea (Like a Bride). Keep checking Rotten Tomatoes for updates!
Audience Reviews for Novia Que Te Vea (Like a Bride)
½
One of Their Kind Toward the end of the film, someone points out that there have been Jewish communities in Mexico for hundreds of years. Both of the families in this movie made it to Mexico before World War II; only one person in the movie is a survivor of the camps. It is essentially the only way the war has a noticeable effect on the characters. Of course, the war had an impact on the girls. The war had an impact on everyone who grew up in the '50s. But the girls never think about it. I think one of them was older when she first really heard about the Holocaust than I was. Their world was older. I don't know much about post-war Mexico, but the world these girls live in might as well have been untouched by even a whiff of it. The only real difference seems to have been the prospect of Israel. As the girls grow up, it is somewhere else they can go. Oshi Mataraso (Tamara Shanath, then Claudette Maillé) is the child of Turkish immigrants. She grows up in a society of gossiping women whose only duty in life is to marry well and have children. Rifke Groman (Sahni Nudel, then Maya Mishalska) is the child of Polish immigrants. It is her Uncle Meyer (Leslie Hoffman) who survived Treblinka, though he lost parents, wife, and children there. Rifke is expected to be a mature, intelligent, educated reflection on her parents. The girls meet at a socialist club; neither is quite a Communist. However, Eduardo Saavedra (Ernesto Laguardia) is. He is also in love with Rifke. Her parents disapprove; he is not only a Communist but a [i]gentile[/i] Communist! On the other hand, Oshi's parents very much want her to marry an odious doctor (Pedro Armendáriz Jr., possibly?). She goes out with him, then realizes she can't stand him and wants to go to college instead, and you Do Not Break Off Engagements in her society. Honestly, large amounts of the girls' story could be lifted whole cloth out of a lot of other movies. The pressure to get married. The pressure to marry the right person. Breaking away from your parents. Loving someone even when it's difficult. And so forth. It could happen to anyone; that it happens to these two girls doesn't say so much about them as about the fact that, well, it's a movie about them. Each girl is pressured to keep up a community tradition. Heck, Oshi's parents don't even want her to marry a boy from Rifke's community--why would you marry down into an Eastern European Jewish family? Boys may go out with girls like that, but they don't marry them. Rifke's parents, on the other hand, really only care that the boy is Jewish. The girls, on the other hand, were raised in a different culture from that of their parents. They were Mexicans first, not Jews. Okay, then there are the Communist bits, and it's certainly what sets this movie apart from a coming-of-age story in the United States at the same time. Rifke's school is shut down for a day because the Kennedys are visiting Mexico; the most radical a girl in the US at that time might reasonably expect to be would be to have been a Kennedy campaign worker, or maybe hardcore into the Civil Rights Movement, depending on where she lived. Good Girls didn't march in the streets bearing signs supporting Castro. I do, in many ways, see it as part of the same dream. These girls envision a world better than the one they live in. The thing is, Castro wasn't the person to give it to them as they thought he was. In [i]Thrones, Dominations[/i], Lady Mary refers to Communism as a beautiful dream, and I think these girls are inclined to take the good bits and ignore the bits which don't really work. Either way, though, it's clearly a more acceptable political stance in Mexico at the time than the US, for all Saavedra is arrested for no discernible reason. Being Jewish does mark the girls in ways which single them out from any other Nice Young Girl From the Suburbs. Especially given that they are living in such a die-hard Catholic country. We see young Rifke angry that they can't have a nativity scene in their house like everyone else. Later, she and Oshi watch an Easter pageant wherein the Jews are presented as horse-riding murderers. This despite presenting Pontius Pilate as a murderer as well; you kind of have to pick one. Saavedra's parents like that Rifke girl well enough, but really--she's just not one of them. One of the first things we see her say to him is that he's pronouncing "Yiddish" wrong. Interestingly, though, Oshi's mother's clique has more in common with rich WASPs in America than either group would ever be willing to admit.
Edith Nelson