Novo
(2005)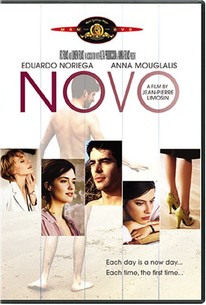 Movie Info
The nature of love and memory and how the two sensations interrelate are explored in Jean-Pierre Limosin's 2002 film Novo. Office worker Graham (Eduardo Noriega) suffered a head injury that destroyed his ability to maintain long-term memories. Falling in love with the forgetful Graham, temporary office secretary Irene (Anna Mouglalis) takes the opportunity to engage Graham in a sexual relationship that feels like the beginning of a hot romance -- with plenty of adventurous sexual encounters along the way. While Irene insists that she'll maintain the memories for both of them until Graham recovers, she begins to wonder if their romance will endure without his being able to remember any of the hot details from their short history. Novo was a chosen for inclusion into the 2002 Locarno International Film Festival.
Audience Reviews for Novo
½
watched this as part of the free sbs on demand anniversary, but was sorely disappointed by the lack of a cohesive plot. the premise was a (handsome) guy who due to a malady, struggles to remember anything for beyond an hour (sounds familiar), and is thusly taken advantage of by every drooling female around him. if the genders were flipped, the feminists would have an outcry. but as it stands, it's simply an incomprehensible movie with an unrealistically good-looking cast.
Aaron Chuah
A quirky comedy-drama (more drama than a comedy). Quite watchable but too bizarre and sometimes incomprehensible - less quirkiness would have been better.
Gabriel Knight
½
Another one of those French films where the greatest existentialist crisis revolves around someone or the other having sex. Or not having it. Well, in this particular case the man in question has a case of recurring amnesia (shades of Memento) and hence there's this beautiful 'novelty' every time he succumbs to the charms of the same girl (his continuing girlfriend). The people involved are all supremely good-looking so that's a bonus. Unfortunately these events don't happen to the rest of us, which is not a bonus. Hard to believe any of the tripe, but it was all entertaining for a while.
Arin D
Novo Quotes
There are no approved quotes yet for this movie.
Discussion Forum
Discuss Novo on our Movie forum!