Nu ji zhong ying (Bamboo House of Dolls)
(1974)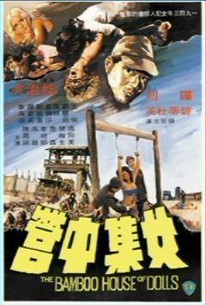 AUDIENCE SCORE
Critic Consensus: No consensus yet.
Movie Info
A nurse in a Japanese women's POW camp during World War II masterminds an escapee.
Rating:
NR
Genre:
, , ,
Directed By:
In Theaters:
Runtime:
Critic Reviews for Nu ji zhong ying (Bamboo House of Dolls)
There are no critic reviews yet for Nu ji zhong ying (Bamboo House of Dolls). Keep checking Rotten Tomatoes for updates!
Audience Reviews for Nu ji zhong ying (Bamboo House of Dolls)
Running the gambit on genres the prolific Shaw Brothers recognized the growing popularity of films exploiting women in prison and churned out one of the sleazy subgenre's most referenced entries. Why "The Bamboo House of Dolls" holds that distinction is unapparent as the film rarely strays from the WIP formula popularized by director Jack Hill's Filipino jungle prison films starring Blaxploitation actress Pam Grier. What precious little plot there is (neither the credits nor reliable sources list a screenwriter) only serves to get the cast of undistinguished multi-national female inmates out of one lowbrow sequence and into the next. However exploitative as "The Bamboo House of Dolls" is it's hardly edgy -- even for the times -- and despite copious amounts of female nudity and a considerable amount of degradation, "The Bamboo House of Dolls" is relatively tame when stacked against its peers who would only grow more gratuitous in its wake. Subplots about guards conspiring with inmates and a prison mole secretly working against them and a cache of gold hidden in a mountain prove more titillating than a chintzy food fight, a botched escape attempt, bondage as punishment, and an instant wet t-shirt contest when the escaped inmates have no choice but trek through a waterfall. Was that really the intention? Cinematographer Yau Kei takes more pride in photographing a rustic female internment camp than perhaps most. In addition, there's a daring jailbreak with Lo Lieh driving a carload of petrified prisoners around in a beater that he uses a battering ram blurring the lines between anxiousness and unintentional comedy but overall "The Bamboo House of Dolls" is really for WIP enthusiasts only.
Adam Laidig
This was a fun piece of exploitation played out in China, a nice change of pace from the American made Women In Prison films. The version I watched suffered slightly from botched subtitling here and there, but it honestly might've added to the overall charm. Give it a peep if you're a fan of the '70s sleaze.
Bill Bryant
Discussion Forum
Discuss Nu ji zhong ying (Bamboo House of Dolls) on our Movie forum!