Nuit #1
(2012)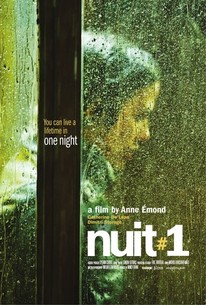 Nuit #1 Videos
Nuit #1 Photos
Movie Info
Clara and Nikolaï meet at a rave. They return to Nikolaï's apartment and make love. Afterwards, instead of parting, the two lovers divulge their deepest secrets to one another. Nicolaï is a beautiful loser. At thirty-one years old, he leads a simple and frugal life. He applies himself to reading the great classics of literature but never finishes a book he has begun. Unable to submit to any schedule, he finds himself unfit for work. He envisions big projects and has large ideas but, inevitably and despite himself, loses sight of them beforethey are realized. Clara, like Nikolaï, seems not to be made for this world. She leads a double life. By day, she works as a third grade teacher; by night, she is a compulsive party-girl. She goes out every night, gets drunk and high and sleeps with men, women or both at once. -- (C) Official Site
Rating:
NR
Genre:
Directed By:
Written By:
In Theaters:
On DVD:
Runtime:
Studio:
Watch it now
Cast

News & Interviews for Nuit #1
Critic Reviews for Nuit #1
Audience Reviews for Nuit #1
First, the reviews that graded this work with words like 'talkathong', 'twaddle', 'series of monologues', 'miserable characters' are clueless. One reviewer got it - the Miller reviewer. All the other threadbare reviewer wordsmiths demanded heroic aging and 'fitting into the world'-resolutions through soap opra lenses. This was a dystopic look at two smart self-aware attractive characters with similar empty outlooks who can't connect or achieve orgasm with each other. de'Leans final bathtub scene was moving, disturbing, and stunning. The rooftop/school room ending made me feel like the director/writers were not up to the fish they had on the line. The line broke. But it was a hell of a de'Lean fish.
Patrick Grady
One line summary: Two boring slackers discuss their uninteresting one night stand. ---------------------- Clara and Nikolai meet at a rave. They go home together. They have sex. She cannot sleep, takes a bath, then leaves. He calls her back before she's out the door. They talk, endlessly, in long, pointless, low-energy monologues. Then they talk some more. The problem is, their lives are flat, failed, undistinguished, prosaic: the lives of two slacker drug users who cannot engage life. Who cares? Self-loathing is just not appealing. ------Scores------- Cinematography: 7/10 Fairly good for the difficult low light conditions often chosen by the director. When there was sufficient light, the visuals were rather good. Sound: 5/10 OK, though nothing great. Acting: 4/10 Meh. Any high school drama student could have swapped in for either of the principals. Screenplay: 4/10 Plain, boring, non-engaging. The script is not clever enough to make one care about the characters, who are about as engaging as lichen on rocks. Write an essay, get it published, get it out of your system, but don't make a film about it, especially one this bad.
Ed Collins
Discussion Forum
Discuss Nuit #1 on our Movie forum!
News & Features