Nuremberg
(2010)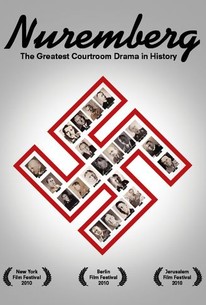 Movie Info
Commissioned by Pare Lorentz, head of Film, Theatre & Music at the U.S. War Department's Civil Affairs Division, NUREMBERG was written and directed by Stuart Schulberg, a veteran of John Ford's Office of Strategic Services (OSS) Field Photographic Branch/War Crimes Unitthat was charged in 1945 with locating Nazi film evidence to be shown in the courtroom at Nuremberg. This monumental film documents the first historic Nuremberg trial* and shows how international prosecutors built their case against the top Nazi war criminals using the Nazis' own films and records. The trial established the "Nuremberg Principles," laying the foundation for all subsequent trials for war crimes and crimes against peace and humanity - which continue to unfold in the news today. For complex political reasons, NUREMBERG was never released to U.S. theaters, although it was widely shown throughout Germany in 1948 and 1949 as part of the Allies' de-Nazification campaign. Pare Lorentz's efforts to purchase the film from the U.S. government in order to release it himself were rebuffed in a controversial decision by Truman administration officials that came to light in 1949. A Washington Poststory headlined "Army Reluctant To Clarify Inaction On Nuernberg Film" (Sept 19, 1949), interpreted the Pentagon's opposition as follows: "...there are those in authority in the United States who feel that Americans are so simple that they can hate only one enemy at a time. Forget the Nazis, they advise, and concentrate on the Reds." Opposition to the film's release also arose from Hollywood. The restoration team found a letter from the head of public relations for Universal Pictures, who wrote: "I personally feel that [the picture] certainly has no place at this, or any other time, in general theatre distribution for the entertainment seeking public...The subject matter and the way it is treated is altogether too gruesome to stomach - and I mean that literally." And so, the movie was shelved, and over the years the original picture negative and sound elements were lost or destroyed. In 2003, Stuart Schulberg's children discovered numerous documents about the making of NUREMBERG and the controversy surrounding it in their mother's apartment, along with a print of the film. A year later, daughter Sandra Schulberg began to inventory the documents and invited two Holocaust scholars, Ronny Loewy and Raye Farr, to examine them. It became clear they were extremely important and previously unknown. She began a five-year effort to assemble a team and raise the necessary funds to restore the 78-minute 35mm film. Schulberg's older brother Budd, a senior officer on the same OSS team and also a protégé of John Ford, supervised the compilation of evidentiary footage into two films for the U.S. prosecution team to use. The first film was The Nazi Plan,which consists of the German Reich's own films and photographs of genocide and military aggression. The second film was Nazi Concentration Camps, which used footage shot by Allied forces in the spring of 1945 when they liberated the Nazi concentration camps. Stuart Schulberg's NUREMBERG interweaves the courtroom proceedings with excerpts from these two films to reconstruct the basis for the four counts of the indictment. Sandra Schulberg and Josh Waletzky created a new 35mm negative (made from the best existing print at the German National Film Archive) and re-constructed the soundtrack using original sound from the trial. The Schulberg/Waletzky restoration allows audiences to hear Justice Robert H. Jackson's famous opening and closing statements to the Tribunal, and the testimony of German defendants and their defense attorneys - all in their own voices - as well as bits from the English, Russian and French prosecutors. Now, more than 60 years later, the newly-restored film can be seen and properly heard for the first time. The film ends with Justice Jackson's stirring words: "Let Nuremberg stand as a warning to all who plan and wage aggressive war." -- (C) Film Forum
Rating:
NR
Genre:
Directed By:
Written By:
In Theaters:
Runtime:
Studio:
News & Interviews for Nuremberg
Critic Reviews for Nuremberg
Audience Reviews for Nuremberg
½
Interesting as an artifact. Created by the War Department in 1948 and shown in Germany but not America, evidently because the government wanted to unite with Germany against Russia, whereas in 1945 it was the other way around. Most of the footage is extremely familiar to viewers of WWII docs, but still worth a look to see what the government view was at the time. Nicely restored with the very busy Liev Schreiber narrating.
Roy Smith
About as interesting as the documentaries you had to watch in ninth grade history class, but at least you don't have to take notes. Seriously I did not learn anything new, or interesting, except that these guys (unlike the "POW'S" at gitmo) got a fair trial and some where found innocent, and where released. maybe that's why this is considered an important film.
ralph colson
Nuremberg Quotes
There are no approved quotes yet for this movie.
Discussion Forum
Discuss Nuremberg on our Movie forum!