Nutcracker in 3D
(2010)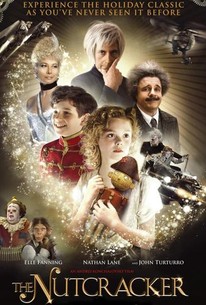 TOMATOMETER
AUDIENCE SCORE
Critic Consensus: Misguided, misconceived, and misbegotten on every level, The Nutcracker in 3D is a stunning exercise in astonishing cinematic wrong-headedness.
Movie Info
Nine-year-old Mary's dull Viennese Christmas is suddenly filled with excitement and adventure following the arrival of her beloved Uncle Albert and his gift of an enchanted nutcracker. On Christmas night, Mary's new friend, The Nutcracker, or "NC," comes to life and takes her on a wondrous journey into his magical world of fairies, sugarplums, and other Christmas toys which come to life.
Rating:
PG
Genre:
, , ,
Directed By:
Written By:
In Theaters:
On DVD:
Box Office:
$200,000.00
Runtime:
Studio:
News & Interviews for Nutcracker in 3D
Critic Reviews for Nutcracker in 3D
Audience Reviews for Nutcracker in 3D
½
I have never seen any classic Nutcracker films or ballets, and I never read the story, and I never plan to. But then I came across this infamous box-office bomb. I was uninterested at first, but then I saw that John Turturro played the villain. Now that was very interesting. I love his flamboyancy and thick Boston accent, so any movie he's in will have me interested. So I checked out the trailer, and my god, did it look cool. There were giant helicopters with long robotic legs, motorcycles with gatelling guns on them, and some badass looking rat-humans. And I got exited as heck. I thought it was going to be a groundbreaking epic. I got it on Blu-ray and watched it on my flat-screen TV, and it looked awesome. But I must say, I don't think it quite achieved the epic status it strained for. I mean, not to say it isn't good, but it's very muddled. First off, it's not as fluffy and whimsical as the poster suggests, and it's not quite as epic and adventurous as the trailer suggests. It does have some elements of both, but they're handled very unevenly. Basically, the film just doesn't know what it wants to be or who it's aiming at. When they're in the human world, everything is all dumbed-down and childish, but when they enter Ratworld, things get creepy, dank, and darkly humorous. Plus, NC himself is VERY annoying, with his high-pitched, scratchy voice and strange hat, which is unfortunate, because his visual effects are pretty cool. The rest of the acting is average at best, but the best performances come from Turturro as the evil Rat King and Nathan Lane as Uncle Albert (who I guess is supposed to be Albert Einstein for some reason). They both appear to be having enormous fun in their roles, and I really think they hit the note. Elle Fanning and Charlie Rowe are not the best, but you can definitely see that they're trying, and plus, they're just kids (I didn't see Shirley Temple bringing home any Oscars). On top of that, the dialogue is rather cheesy, a bit too funny when it should be serious and a bit too strange when it should be funny. The songwriting is also fairly mediocre, especially the ones tied on to Tchaikovsky's instrumental songs. The only songs that I really enjoyed were the Rat King's songs, which were delightfully creepy and humorous. So the film is really roller-coaster in terms of quality. The big thing about this movie that everybody seemed to hate was the fact that it showed very little resemblance of a ballet, and that it was far too dark for something as whimsical and sweet as The Nutcracker. For me, however, those are the film's two biggest selling points. I hate ballets more that life itself, and if there were much more than a few brief dance scenes in the movie, I'd probably hang myself. And it is indeed quite dark, with the Rat King's soldiers bearing striking similarities to Nazis, and all the pictures of crying children hanging up on his wall, and a particularly infamous scene where he electrocutes his pet shark just for the heck of it. But I thought this all added to the atmosphere of the film, which was very nice. The special effects, production design and makeup were just amazing to look at, and they really brought some life into the feel of the story. So in the end, this movie is not perfect, but at least it's beautifully filmed and has a decent story. It certainly wasn't the enormous turkey that the critics called it, but I can't say that it's for everyone.
Jed Groff
Overall, it's a fun, deliberately hokey romp that deserves a plus for integrating elements from the original Nutcracker story (The Nutcracker and the King of Mice) which were never included in the ballet adaptation. It gets another plus for the tasteful, well-managed use of CGI for nothing more than what it's needed for. Unfortunately, the ending they chose to go with feels tacked-on at the last minute, as it creates a few plot holes, though you won't notice them unless you're really paying attention.
Katharine Baskin
½
The film starts out cute and harmless but then turns into an episode of Doctor Who and not a good one either. The talented Elle Fanning at least lights up the screen through-out.
Nutcracker in 3D Quotes
| | |
| --- | --- |
| Frau Eva/The Rat Queen: | Little girls in love can be VERY dangerous! |
| | |
| --- | --- |
| The Rat King: | (to his mother) You appear to be slipping, old gal! Your spell on the prince is broken! He is alive!Alive! And if the other humans find out, my dreams are shattered! |
| The Rat King: | [to his mother] You appear to be slipping, old gal! Your spell on the prince is broken! He is alive!Alive! And if the other humans find out, my dreams are shattered! |
| | |
| --- | --- |
| Uncle Albert: | It's all relative. |
| | |
| --- | --- |
| The Rat King: | (to his mother) Turn up your hearing aid, for crying out loud! Do you want to ratify the world or not? |
| The Rat King: | [to his mother] Turn up your hearing aid, for crying out loud! Do you want to ratify the world or not? |