Nympha
(2007)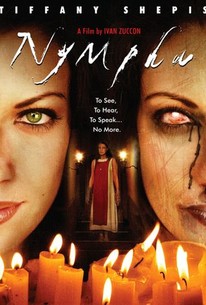 AUDIENCE SCORE
Critic Consensus: No consensus yet.
Movie Info
An aspiring cloister nun experiences unimaginable physical and mental torment upon traveling to the "New Order" Convent in Italy and subjecting herself to the four rigorous steps thought to bring one closer to God. Sarah is a young English girl who longs to dedicate her life to the lord, even if it means living under rules that would be considered torture by most. Sarah's path to salvation is divided into four steps: "hear" the Lord, "see" the Lord, "touch" the Lord, and "talk" to the Lord. Should she somehow manage to transcend her pain and live through this rigorous indoctrination, she will finally be accepted into the convent. In the midst of this grueling process, however, Sarah begins experiencing strange visions of a young girl named Ninfa whose grandfather Geremia was a violent religious fanatic. Geremia believed that he could talk directly with God, and his madness still lingers in the darkened corridors of the convent to this very day.
Rating:
R
Genre:
Directed By:
Written By:
In Theaters:
On DVD:
Runtime:
Studio:
Critic Reviews for Nympha
There are no critic reviews yet for Nympha. Keep checking Rotten Tomatoes for updates!
Audience Reviews for Nympha
½
It is very cold and empty, ultimately becoming very draining as it is more difficult to watch as it goes along.
Pete Skeris
½
A total mess, a sort of mystery wrapped in an enigma wrapped in crap and deep-fried in pointlessness. The story seems to have been made up as they went along. Why would a group of nuns start a religion -- sanctioned by Catholic clergy, no less -- based on a self-mutilating child of incest who went on to marry her brother? THAT'S the basis for a new religion? Seriously? Even the title of the movie is meaningless; the self-mutilating incestoid is named Ninfa by her father/grandfather. I guess "Nympha" makes the movie sound like it might be interesting. It isn't. Tiffany Shepis, for some reason, travels to a convent in Italy at the behest of an American bishop. She wants to lead a religious life of silent contemplation. Instead, nuns dressed in red and their drunken doctor/slave make her deaf, blind, mute and boil her hands while they're at it. But she's, for some reason never explained even a little, in some sort of psychic contact with the aforementioned Ninfa and her crazy father/grandfather who, just because he's really crazy, does things like cut off his own leg and keep piles of dead animals in his attic. Ninfa and Tiffany are super, super scared of that. And thereby hangs a... tale? No, a mess. Nothing here makes sense and the ending is a HUGE let-down after all the build-up. Other people's repressed memories just aren't that scary when you've been led to expect something supernaturally horrible by every clue in a film. It plays like director Ivan Zuccon simply didn't know where he was going at any point in this awful mess, so he just decided to run the whole thing into a wall in the end. This could have been a perfectly good nunsploitation film, or a good horror film, or a fine drama. But it isn't any of those things because it never commits to any of them. Punt this one.
Brian Seitzman
Nympha Quotes
There are no approved quotes yet for this movie.