Nymphomaniac: Volume I
(2014)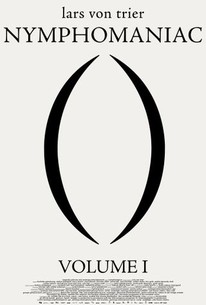 TOMATOMETER
AUDIENCE SCORE
Critic Consensus: Darkly funny, fearlessly bold, and thoroughly indulgent, Nymphomaniac finds Lars von Trier provoking viewers with customary abandon.
Nymphomaniac: Volume I Videos
Nymphomaniac: Volume I Photos
Movie Info
NYMPHOMANIAC: VOLUME I is the story of Joe (Charlotte Gainsbourg), a self-diagnosed nymphomaniac who is discovered badly beaten in an alley by an older bachelor, Seligman (Stellan Skarsgård), who takes her into his home. As he tends to her wounds, she recounts the erotic story of her adolescence and young-adulthood (portrayed in flashback by newcomer Stacy Martin). (c) Magnolia
News & Interviews for Nymphomaniac: Volume I
Critic Reviews for Nymphomaniac: Volume I
Audience Reviews for Nymphomaniac: Volume I
½
Probably the best film of decade until now. Lars Von Trier's bold great film with dark humour, fantastic direction, screenplay, editon, soundtrack and several courageous actings make Nymphomanic: Volume 1, an unforgetable movie that is not for many. Different of a lot of people are thinking, this is not a porno is a true piece of art film. Fresh.
Lucas Martins
Super Reviewer
½
"Nymphomaniac: Volume 1" is not for everyone, in fact, I am shocked some of the material explored throughout this film even passed the MPAA during pre-production. This film sets up an interesting character, even though the off-putting Cinematography and editing style really take you out of the film. If you do not buy into her life as a sex-addict and how she became one, you may begin to grow a strong hatred toward this film and that is exactly what happened to me. I felt this film as more of an unintentional comedy, playing on the porn genre more than anything else, and I enjoyed some moments for that reason, but that was not the intention. Overall, this is a film made for excess and to make an audience "Awe" at the screen. I was not fooled into that and was just more disgusted at how a feature film was allowed to be made with this content in it. "Nymphomaniac: Volume 1" sets up the sequel to conclude her story, and quite frankly, it is not even an interesting cliffhanger. Unless you like Lars Von Trier's style, you will not find much to enjoy about this film.
If you can only see one half of the Lars von Trier two part film "Nymphomaniac" than please let it be this one. The film is narrated by Charlotte Gainsbourg as an older version of our lead character, Joe, who is a self-described nymphomaniac. While I believe some of the story is very eye opening into the qualms of sex addiction, I do not recommend this as an educational tool. The story follows a woman who is possessed by her urges, but also wants to define herself by them, which makes her adventures misanthropic and dangerous to an outside observer. The beginning half examines Joe's childhood and her young life. She feels the disappointment of young adulthood, the ecstasy of her sexual awakening, the throes of love, and all its machinations. She tells all of these dirty provocations to an empathetic observer played by Stellan Skargaard, who heals her after finding her bloodied body in an alleyway. There's something very endearing about this relationship, but also you wonder about his motivations. The story follows Joe's life all the way into her early thirties, with an excellent performance from Stacy Martin. There are very real depictions of sex, all done by porn doubles and prosthetics, but it isn't shown to be erotic, and more so to be truthful to the protagonist. There is some glamorization of the act, but also an implicit juxtaposition between pleasure as a construct and showing it as an emotional need. Joe also sees sex as an expression of love, but when confronted with her feelings they're often numbed by her own self-hatred. Shia LaBeouf also appears as her girlhood crush and love interest, Jerome. LaBeouf is as wooden and unfeeling as I have ever seen him, and his casting in this film is all but baffling. That and his atrocious and very fake English accent all but seal his fate as the worst actor with the worst performance in this entire film. His character is definitely off-putting, as is he, so perhaps casting such an arrogant sod to play an arrogant sod wasn't the worst choice. Gainsbourg's articulate narration provides an upsetting tone for the rest of the film, as her quiet and nuanced performance clashes with the errant eroticism seen onscreen. This film proves to be more eye opening and upsetting than the one that precedes it, possibly because the first is more focused on its story and tries to show entwined relationships. This is a powerful and frustratingly real first section in this two part film.
Spencer S.
Super Reviewer
Nymphomaniac: Volume I Quotes
| | |
| --- | --- |
| Joe: | You can't make an omelet without breaking a few eggs. |
| | |
| --- | --- |
| Joe: | The My theory is that the people who cut the nails of the left hand first, they are more light-hearted. They have a tendency to enjoy life more. Because they go straight for the easiest task and save their difficulties for later. |
| | |
| --- | --- |
| Joe: | No I didn't think you needed skills... |
| Secretary: | Well... Apparently, having absolutely no experience, is absolutely fine for this job. |
| | |
| --- | --- |
| Joe: | Nomatter what they say, all woman want to have sex with negros. |
Discussion Forum
Discuss Nymphomaniac: Volume I on our Movie forum!